Today, we have been wearing odd socks for Anti-Bullying Day.
Through group and class discussion and activities, we have talked about:
what bullying is
our Child Friendly Anti-Bullying Policy
the different kinds of bullying including cyber bullying
how someone being bullied may think, feel and act
the negative impact bullying has on mental wellbeing
how to get help including who we can talk to about bullying
the acronym STOP
STOP
Several Times On Purpose           and                  Start Telling Other People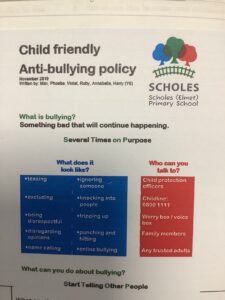 This year's theme is REACH OUT. How will you Reach Out today?