Every week, we enjoy our 'Book Club' session. This is an opportunity for us to share what we've been reading at home, celebrate this and explore different books / authors.
This half-term, we're reading books as part of a group. This means we can all discuss the same book. We enjoy this and get a lot from having a shared experience of reading.
In our 'Book Club' session, we discuss what we've been reading…
And celebrate the great work we've done in our reading journals…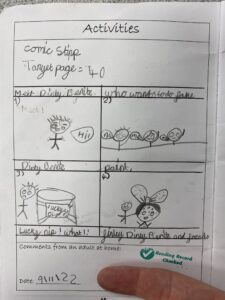 Help at home by…
asking your child about what they're reading
reading every day with your child
being a reading role model yourself
encouraging your child to engage with their reading record
We know it's busy at home. But, equally, we know how important reading at home is!