We're really lucky to have several fruit trees in our Nursery garden and at this time of year, some of our favourite activities involve apples. Children love to collect them outside and transport them in wheel barrows. We also love to bake with them. This week, some of our older children enjoyed baking mini apple pies. One group carefully helped to chop the apples whilst the other group made the pastry. They smelt delicious and tasted pretty good too!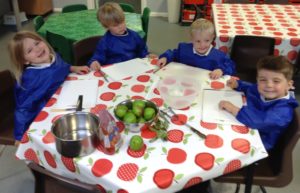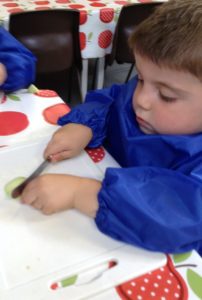 The jungle small world area has been very popular and some children extended their play, building the animals homes using the building blocks. This required great concentration and involved lots of testing and adjusting to make sure that the bricks weren't going to fall down. When they did take a tumble, there were lots of helpers to build them back up again. Great team work, Nursery!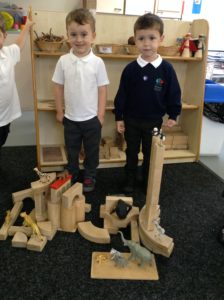 Children are still busy exploring Nursery and the newest children are enjoying returning to their favourite areas each session. As they become more familiar with the different areas of provision, you will start to see us enhancing them slightly to reflect their current interests. One area that we have chosen to adapt for next week is the small world area. Now that children know where to access the jungle animals independently, they have been returned to the basket on the shelf and instead of a jungle, we now have a bear cave!
We loved listening to 'We're going on a bear hunt' last week and children especially enjoyed re-telling the story outside as we moved through the long, wavy grass and tip toed through the forest (in our garden, of course!). To reflect this common interest and favourite book, we have adapted our provision to capture children's imaginations and to encourage them to re-tell the story themselves.
If you want to join in at home, please enjoy reading the book together if you have a copy. If not, you could visit the library or  watch this short video of Michael Rosen telling the story. It's fantastic! We especially love his sound effects.  Listening to sounds and making different voice sounds is one of the first ways that we begin to teach phonics in Nursery. We'll add more about how we teach Phase One phonics over the next few months in our web site posts.
Finally, you may have noticed bright yellow post-it notes starting to appear under children's photographs on our 'What makes us tick?' board in the entrance to Nursery. Please jot down any interests that your child currently has or favourite games, songs or stories. We use these ideas to help us plan activities that are exciting and relevant for your child. Thank you.