Thank you for returning your autumn bags! This week, we began to look at their contents. Children enjoyed talking about what they had found and where they found their autumn treasure.  Don't worry if you haven't had a chance to go for a walk yet, there's still time. Please return your bag to Nursery over the next two weeks.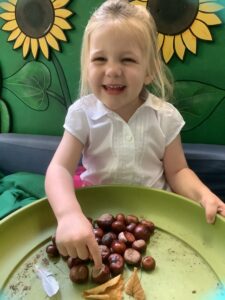 We've been learning all about autumn this week; we talked about the changes that we could see around us in our Nursery garden.  Children noticed that the leaves were changing colour and falling from the branches. We listened to a song about autumn leaves falling down and named lots of different coloured leaves that we could see outside. We also began our group time learning activities this week; one of our maths activities was to sort a box full of autumn treasure. Children talked about big conkers and little conkers and sorted them into piles. We also sorted the autumn things into 'types' of things such as conkers, sticks and leaves.
In our story corner, children have enjoyed listening to the story of 'We're going on a bear hunt'. They're getting really good at re-telling the story and joining in with the repeated refrains. We loved listening to the author telling the story, too. Have a listen at home and join in together with the sound effects!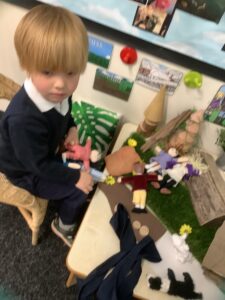 Outside, children went on their own bear hunt. We took our shoes and socks off, to see what 'squelch, squerch' in the mud and 'splash splosh' in the cold river felt like.  It was great fun!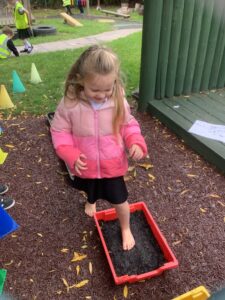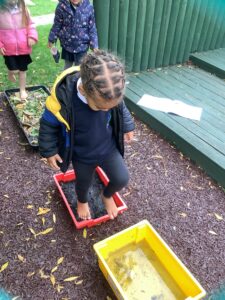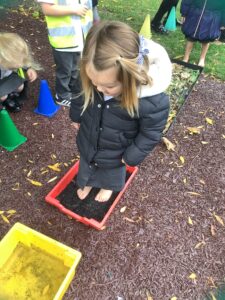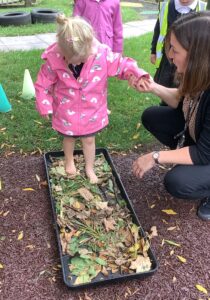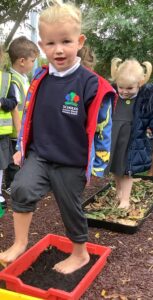 Next week, we'll continue to learn about autumn and will look at some artwork by Andy Goldsworthy.  We also noticed that some children were talking about part of the story from 'Goldilocks and the Three Bears' last week, so we'll follow this interest by reading the story and exploring porridge oats in the sensory area. If you have a copy at home, please share it together at bedtime  or watch this CBeebies story time, to help familiarise your child with it.