So far this week, we've been enjoying talking about the contents of children's autumn bags. Thank you to everyone who has returned them already. Don't worry if you haven't had chance to fill them yet, there's still time! Please bring them to Nursery when they're full.
Children have enjoyed telling us all about the things they have collected and where they found them. It sounds like lots of you have had fun visiting local parks or looking for autumn things on the walk to Nursery. We've heard some good descriptive language (shiny, spiky, smooth) and the conkers are providing endless opportunities to talk about size. We love to line them up in size order!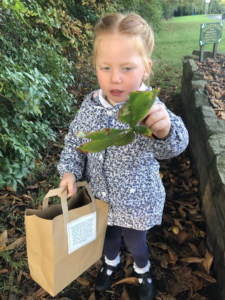 Outside, some children helped to harvest our (mini!) carrots and we enjoyed eating them at snack time.  We have also noticed that many children are interested in 'rolling' objects at the moment. To facilitate this, we created a conker drop game outside. It was great fun trying to roll the conkers into pots at the bottom. We carefully counted how many we managed to get in to each pot at the end.