This week, we've been finding out about bees and sampling some yummy honey at snack time.  Children really enjoyed tasting both set and runny honey on their toast.  There were a few surprised children that really liked the honey, even though they didn't think they would.
In maths, we noticed a pattern in the honeycomb that we saw in the book about bees. We investigated using hexagons and other shapes to see if we could recreate the honeycomb pattern. There were also lots of opportunities to practise our counting skills, using the tiny wooden bees and flowers. At the dough table, we made bees and counted out 6 legs and 2 wings and in the creative area, we used yellow and black paint to make a repeating pattern of stripes on our bee pictures.
During group time, we continued to develop our phonological awareness by listening for initial sounds in words. We tried to find objects that started with the same initial sound. See if you can make a collection of items at home that start with the same sound. We also played a game where we had to spot the 'odd one out' from a group of pictures.  The 'odd one' was the object that started with a different sound. You could have a go at this game at home. Collect 3 objects, for example, a spoon, a sock and a cup. Which one is the odd one out? Why?
Outside, we've been looking for minibeasts and learning about their habitats, watering our new plants and trying to identify different birds that we spot in the garden.  We also have a new painting area which has been very popular, too.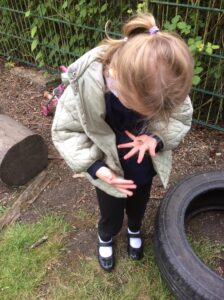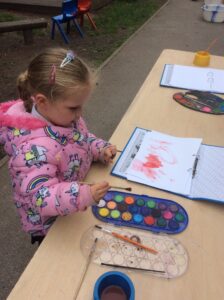 Next week, we're looking forward to a few exciting events including a visit from an animal ranger and some celebrations for the Queen's Jubilee. If your child doesn't attend Nursery on Friday afternoon for the School's Jubilee celebrations, don't worry, they won't miss out. We're going to have a mini Jubilee celebration in Nursery for those children that can't attend.