Welcome back to Nursery. We hope that you all had a good half term. Thank you to everyone who emailed some photographs of your days out; we loved seeing your Halloween costumes, campfires and trips to the seaside.
This week, children were very excited about Bonfire Night. We talked about the different sounds that they had heard ranging from big bangs, to popping, crackling, whizzing and whoooshing!  Outside, and in the mark making area, we drew spirals, lines and dots to make fireworks.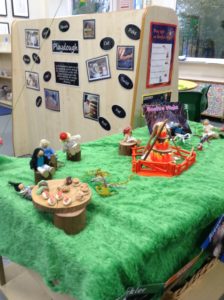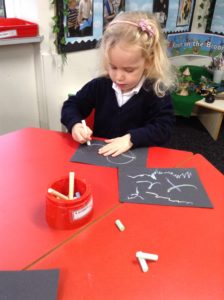 As we talked about safety on Bonfire Night, this inevitably lead to an interest in firefighters and fire engines. Children have enjoyed lots of firefighter role play; building fire engines in the construction area and putting out fires in the small world area.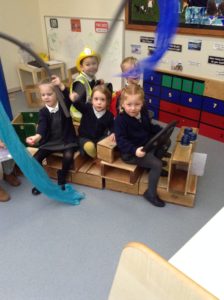 When children take part in role play activities like this, we're looking to develop several areas from our Early Years curriculum, including 'Communication and Language' (which includes speaking and listening skills) and elements from the 'Personal, Social and Emotional Development' strand.  Here are just a few things that we look for and develop during play:
Children's use of language – we may introduce new vocabulary related to the topic and model using it in longer sentences.
Listening skills – we encourage children to listen and respond to their peers and to take into account their ideas.
Making relationships – some children need encouragement to join in with group role play and others may require support to take turns and share resources.
There are lots of benefits of role play, some are outlined in this article.
On Tuesday, we talked about Bonfire Night traditions, including looking at some toffee apples. Children especially enjoyed making their own chocolate apples; we talked about how the chocolate melted and then became hard as it cooled. We hope they enjoyed eating their apples whilst watching the fireworks!
Despite the wet weather, we still took part in lots of outside activities, including strengthening our arm and shoulder muscles by sweeping, raking and hammering.