Children settled into Nursery really well after the half term break. We enjoyed hearing about trips to Tropical World, Thomas Land and your family days out. Thank you for all of the photos that you sent to us.
We sang 'Happy Birthday' lots of times this week as part of our birthday themed learning. Children counted out the correct number of candles onto their playdough cakes, wrote birthday cards and practised their cutting skills when wrapping up presents.
We enjoyed listening to a story outside in the sunshine; we heard about a bear who just couldn't wait until it was his birthday. He counted the sleeps each day. On his birthday morning, he woke up to find a trail of birthday balloons leading to his party. We loved this idea so much, that we made our own!
Outside, we made the most of the lovely, sunny weather. We created a 'car' wash and children waited patiently in line until it was their turn to go through the car wash or have their wheels cleaned. There was lots of communication and turn taking involved.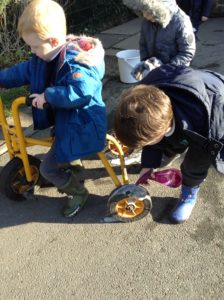 As you will have read from our previous post, we have noticed the beautiful spring flowers growing in our garden. Children showed lots of interest in gardening, especially in digging and planting. We followed this interest and bought some flowers to plant in the pots for the Nursery entrance. We looked closely at the roots before we planted the pansies and talked about what a plant needed to grow.