Before the holidays, children were really interested in the bees that they saw in our Nursery garden. As a result of this, lots of our learning and activities have been linked to bees this week.
In maths, we looked at the shapes in a bee hive. Children enjoyed playing with hexagons and arranging them in different patterns. We also talked about the patterns on bees and created our own repeating colour patterns.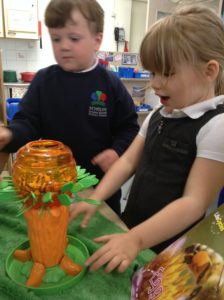 The activity in our sensory area was very popular; children loved squeezing the pipettes to suck up the nectar from each flower and drop it into the honeycomb. This activity was great for strengthening their finger muscles.
At snack time, we tasted both set and runny honey and we even got to try some honey comb.  Lots of children weren't very keen on trying the honey at first but as they saw their friends sampling the honey on toast, they soon joined in. Well done, Nursery. It's always good to try something new.
At the end of the week, we were really lucky as Andy, a local bee keeper, came to visit us. He brought an observational hive for us to look at and explained all about the Queen bee and how the bees make honey.  We learnt lots of new facts about bees. Did you know that bees have 5 eyes?  
At the end of Andy's talk, he brought lots of bee suits for us to try on. It was great fun.  Andy loves bees! He spends lots of his spare time looking after the bees at Temple Newsam where the Leeds Beekeeper's Association is based.  We really enjoyed meeting Andy and his bees and would like to thank him for visiting us. Thank you, Andy!