At the time of writing this post, we have 4 chicks (2 yellow and 2 brown) that have hatched and 3 eggs that have little cracks in their shells.  The fluffy chicks hatched earlier, their feathers have had time to dry in the incubator. The little chick in the corner only hatched 30 minutes ago. Its feathers are still wet and it's lying down, resting.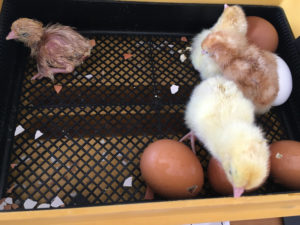 We hope that you've enjoyed watching the videos so far. In the next video, we managed to film the little chick (in the corner of the photograph) just as it was about to hatch. It's a time-lapse video so it appears to happen much quicker than it does in real life. Apologies for the wobbles, Mrs Long was videoing for about 20 minutes or more! It's quite tricky to see clearly, but you might be able to see that the chick is pecking around the shell to crack it more and more. Each time it pecks, it has a little rest before starting again.
Here's a photograph of the chick, taken just after the video stopped. Can you see its eye and legs? What colour feathers does it have?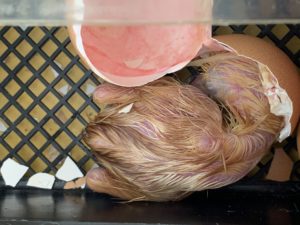 What shall we call our chicks?
Send us an e-mail with your suggestions for names and don't forget to tell us how you're getting on with your learning from home.  Did you read or watch 'Oh Dear!' today?  Ferdie, our Nursery fox, has come to live with Mrs Long whilst we're not at Nursery. He's been busy today; he read 'Oh Dear!' this morning and he enjoyed taking part in a PE session with Joe Wick. He also counted how many chicks have hatched and counted how many eggs are left!