Hard to believe that we only have two weeks of this half-term left!  Let's catch up on what Class 5/6A have been getting up to this week.
A big thank you to everyone who came to see us in our Watch Us While We Work session earlier this week.  It was great to be able to welcome you into our classrooms, and we hope you came away from the session with some useful tools to support your child's learning at home.
Ancient Egypt has been the focus for the majority of our learning this week.  In Reading, we held a debate on whether Howard Carter (who discovered the intact tomb of the Pharaoh Tutankhamun in November 1922) was a positive figure in history.  Our pupils used a variety of resources to build a case for their argument, and then practiced their debating, reasoning and listening skills to discuss the question.
In Topic, we have looked at how the Ancient Egyptians used the River Nile to survive and prosper, and wrote our names on papyrus in hieroglyphics.  Science saw us delve into the murky world of bacteria and microbes, and building on our learning from earlier in the term, use Carl Linnaeus' classification system to create a key for various microbes.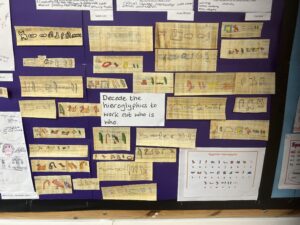 Good luck to all of our Year 6 pupils who will be competing in the cross-country competition at Brigshaw High School on Monday.  We wish you the best of luck!  Next Friday sees Class 5/6A hosting their class assembly.  We look forward to welcoming the parents and families of Class 5/6A into school for our performance.
Just time to look back on our certificate winners for this week.
Living and Learning – Gene.  Showing real maturity with his answers in class discussions, providing thoughtful responses and always showing respect to his classmates.
Sport – Bethany C.  Gave 110% in our circuit training this week.  Tackled every exercise with enthusiasm and a huge smile on her face.
Great learning – Amelia.  Constantly produces well-presented work in all subjects, a willingness to learn and makes the right choice first time, every time!
Have a lovely weekend!