This term, Y5 and Y6 have started a brand new topic: computing. In this topic, we'll blend offline computing (without a physical computer) with online computing (on the laptops/iPads) to teach a range of skills and knowledge – you can see what this knowledge is in these ARE (age-related expectations) grids. 
So far, we learnt all about algorithms (a set of instructions for a computer) and evaluated some existing games using the digital computing platform, Scratch.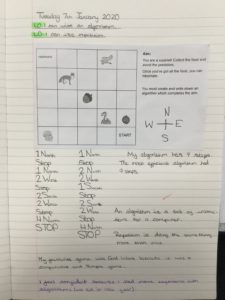 After the evaluation phase, we designed our own games with a partner – ask your child what the aim of their game is. We discussed some more important computing knowledge like decomposition (breaking a problem down into smaller parts), sequence and selection (how to tell a computer what to do and when, often using 'if…then…') and variables (something in a game that keeps track of progress – like a health bar, point system or timer).
Then, we were super excited to start creating our games. We started by creating our backdrops and then we designed our maze. It was really tricky, and we had to be super resillient, but we got there in the end. Ask your child about their recent computing learning:
What have they enjoyed most?
What have they learnt?
What will they be learning over the coming weeks?