It was lovely to see everyone's smiling faces on their return to Nursery this week. We enjoyed hearing about all of your fun adventures over the holidays; from camping trips with inflatable sofas, sledging in the mountains, meeting Princesses and building sandcastles in Wales!
This week, our learning was themed around Easter. We enjoyed sampling hot cross buns at snack time and talked about the Easter story and some of the ways that Christians celebrate Easter.
One of the most popular activities this week was decorating and rolling eggs.  After rolling our eggs, we noticed that the shells had begun to crack. We enjoyed cracking them open and carefully removing the shell.  Many children were amazed at what they found inside! They loved peeling away the egg white to reveal the yellow yolk.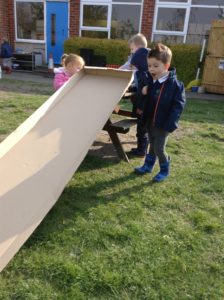 Outside, we enjoyed taking part in egg hunts. Children took turns to hide the eggs for each other and pretended to be the Easter bunny.  We counted the eggs back into the basket each time and somebody realised that the golden egg had gone missing!  We looked all over for it, but couldn't find it anywhere. We drew a map of the Nursery garden to make sure that we searched everywhere. A few children thought that Jack had stolen it, just like he stole the golden egg from the giant.  Mrs Brown called Jack's mum on the phone but he was out – probably climbing beanstalks! Eventually, we decided to make a giant, golden egg; we certainly wouldn't loose that one!
When the missing egg was found (it was hiding in a welly!), some children decided to make a special nest to help keep it safe.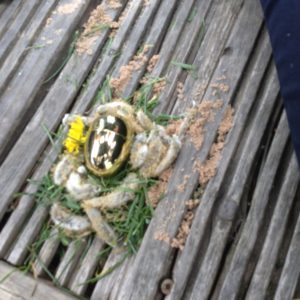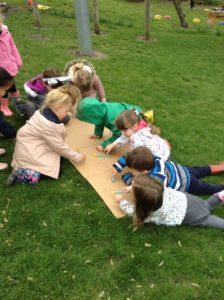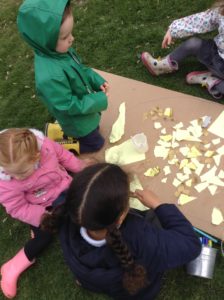 At the maths table, we counted eggs and compared their sizes, colours and patterns.  We also had some stacking chicks; it was quite tricky to find the matching top and bottom parts.  In our Fiddly Fingers area, we used a timer to race against the clock to see how many eggs we could pick out of the nest in 3 minutes. Using the tweezers was difficult, but it was great to see children persevering until they mastered it.