This week, as part of our Expressive Arts and Design curriculum, we've re-visited learning to draw ourselves. We used mirrors to look at our faces and talked about what shape we needed to draw on the paper first. We then looked at our features and tried to add more details to our drawings such as hair, ears and eyes. Some children added tiny little lines for eye lashes and drew spirals for curly hair.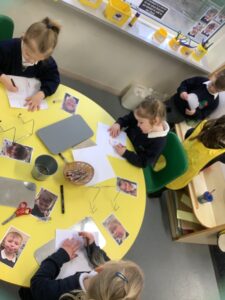 Have a go at home together. Can you draw each other? Start with a circle shape for your face and then add in some features.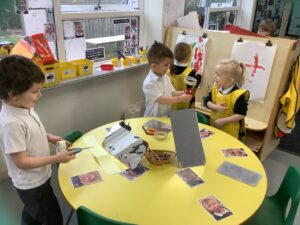 You might have also spotted some funny faces on the table and window! We talked about some of the different faces that we make when we feel happy, sad, worried or angry and used iPads to take selfies of ourselves! In our loose parts area, we used the resources to create some of these faces with our friends. What could you use for the eyes? How would you make a sad face?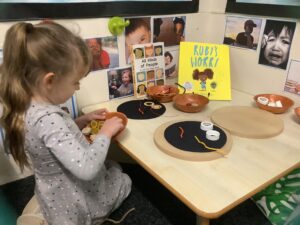 At the beginning of the week, children enjoyed some 'red' themed activities as there was a lot of excitement around Valentine's Day. We cut out different sized heart shapes in the dough area and decorated them with crystals, we used mini hole punchers in the fiddly fingers area and there was a lot of activity in the mark making area as children created their own cards and signed their names.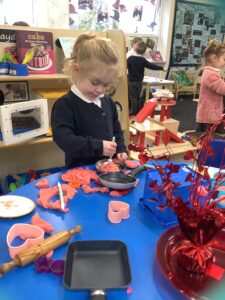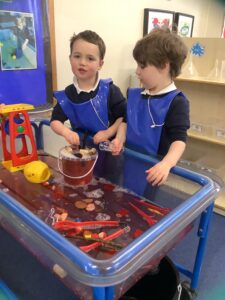 We've also been busy building dens and obstacle courses with tunnels and slides in the Sunshine Room as the windy weather prevented us from being outside at the start of the week. In our small world area, we worked together to draw some roads and create a city to drive the cars around.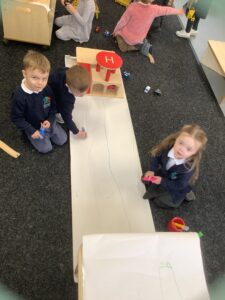 We hope that you all enjoy half term and we'll see you on Tuesday 01 March when Nursery opens. Remember, we are closed on Monday for a Training Day.
If you'd like to send us a photograph of your favourite holiday activity or if your child wows you with something that they achieve during the week, please e-mail us.  scholesnursery@spherefederation.org
Reminder – WORLD BOOK DAY
It's World Book Day on Thursday 03 March and if your child chooses to, they can dress up as one of their favourite book characters and bring a copy of their favourite book to school.  Please refer to the earlier school email for more details. Also, please be mindful of typical Nursery activities when choosing a costume – children need to be able to play both inside and outside comfortably and safely and they also need to be able to access the toilet easily in their costumes!
Please make sure you write their names on their books so that they make it home again for bed time.