As we have previously posted, we're always looking to follow children's interests in Nursery as children learn best when they are engaged.  We seem to have lots of children that like 'owls' at the moment so we're looking forward to developing this interest further. Next week, we will read some owl stories, including 'Owl Babies' and learn more about nocturnal animals. Watch this space to see what the children enjoy and where our learning takes us!
Children also continue to love playing with the jungle animals in our small world area and like to sing and move to 'Walking through the jungle' in our movement area.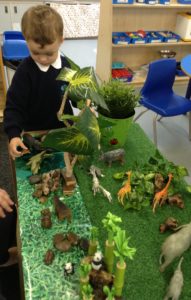 Reminders 
Now that transition sessions have finished, children must arrive at Nursery before 9am. If you arrive after 9am, please go to the main school office to be registered. Thank you for your cooperation.
Please put NAMES in shoes, wellies and coats (and everything else that can me taken off!). We have a few children with the same shoes and it is very difficult trying to match them to the correct owner! Thank you
Look out for the Parent/Carer consultation evening appointments. Please sign up for a convenient time to meet us.
We often buy small things to enhance our Nursery provision (eg pumpkins, playdough/baking ingredients) that the school budget doesn't provide. If you are able to help out, please contribute 50p-£1 to our Nursery funds money box when you can. All donations are very gratefully received.