We've loved reading the story of 'Jack and the Beanstalk' and children have been using the story props in our small world area to re-tell the story. Fee Fi Fo Fum!
We also used a non-fiction text to learn about the life cycle of a bean. You might have spotted the bean seeds that we've been planting through the waving window in the Rainbow room. Some of them have started to germinate already; children spotted cracks in their seeds and tiny roots beginning to emerge.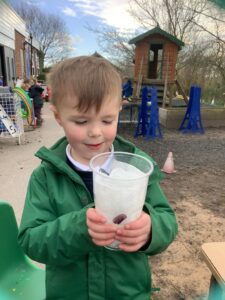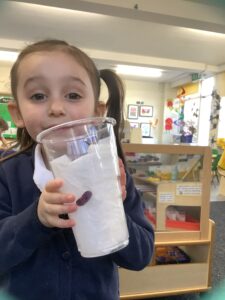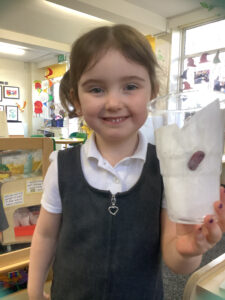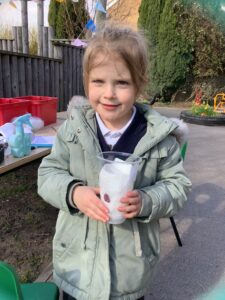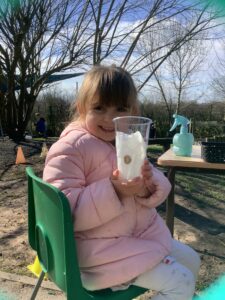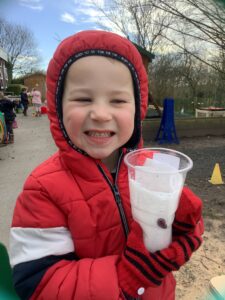 In maths we've been sorting and counting seeds. We looked at the numerals on the pots and counted out the correct number of seeds to match. We tried to make sure that we remembered to STOP when we got to that number.  Afterwards, we checked that we had got the correct number by lining up the seeds and counting them, touching just one seed at a time.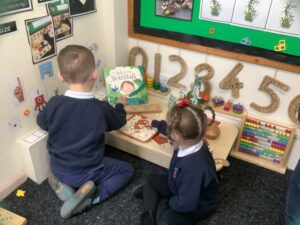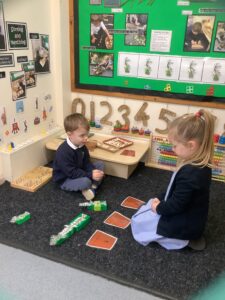 We've explored the texture and smell of different types of beans in the sensory area, including baked beans, kidney beans and butter beans. The baked beans were very smelly!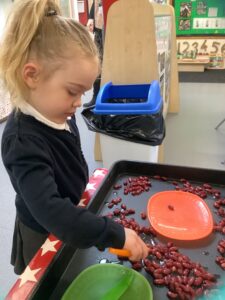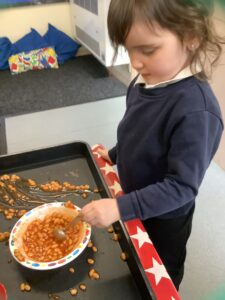 Other activities this week included painting beanstalks using rollers and leaf stamps, threading beads onto straws in our fine motor area and planting seeds in our gardening area outside.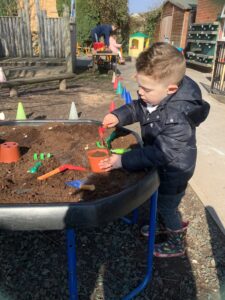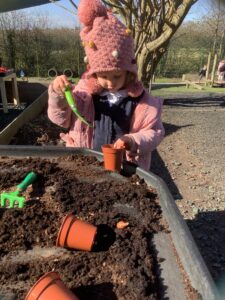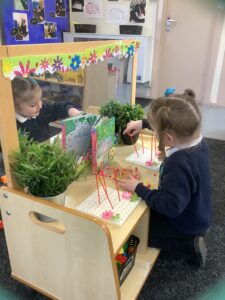 Some children also enjoyed learning about bees using some non-fiction books because they found a very large, dead bumble bee outside and were fascinated by it. Could it sting us? How many legs did it have? They enjoyed being able to look at it closely and see the tiny hairs and patterns on its wings.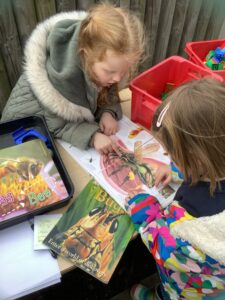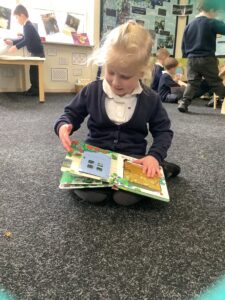 Thank you to everyone who was able to send in a baby and toddler photograph. Children loved looking at these and talking about how they have changed. If you haven't sent them yet and would like to, please email us and we'll add them to our 'growing up' display.  We'll continue to learn about 'growing' next week and will discuss things that we do to help us to grow and be happy and healthy.
Reminders
Please look out for an email with the Zoom details for our Parent Teacher Consultations next week.  We will send them in the morning on the day of your appointment. Please get in touch if you do not receive one by lunch time.
Lots of children's names have come off their water bottles. Please could you make sure your child's is clearly visible. Thank you