We've had lots of emails this week to let us know about how your child has been working towards the targets that we discussed during our parent teacher consultation meetings.  Thank you for working with us to support your child. We know that parents/carers are a child's first educator so support at home has a significant impact on future learning.
If you haven't had a chance to work on them yet after the busy Easter holidays, have another look and see what you can do towards them this week. Lots of the activities will fit into day to day life and your child's play time.
As some children had similar targets for some areas, we've put together a few ideas to help you further support your child at home.  Check which targets your child was given and have a look at the corresponding activities.
Reading – Spot rhyming words in stories.
You could visit the library and choose some new books to share together. Julia Donaldson stories are great for spotting rhymes, as well as the 'Oi Frog' series of books by Kes Grey.
Listen to a bed time story every night, the more children hear rhyming stories, the more confident they will become at spotting rhymes.
As you read a story, pause at the end of the line where there is a rhyming word. Can your child suggest the missing rhyming word?  Challenge them to think of another word that might rhyme and see how many you can think of.
Make up silly rhymes with real or non-sense rhyming words. Children usually find these very funny!
Sing nursery rhymes and replace the rhyming word with one that doesn't rhyme. You could make up your own rhyme, adapting words from their favourite nursery rhyme.  "Twinkle, twinkle chocolate bar, my friend drives a rusty car…"
Listen to this rhyming song and see if you can add in your own rhyming words.
Watch this video and play the rhyming game at home.
Writing – Encourage children to write some of their name using correct letter formation. 
Start with just the first letter of your child's name. Gradually add in the next letters as they master each one.
You could write letters outside using chalks or an old paintbrush dipped in water.
If you have a shallow tray, add a thin layer of sand/shaving foam/sugar and get children to write the letter with their finger or a stick.
Write the letter for them to trace over. Use a green dot at the point where they need to start writing the letter and put a red dot where they need to stop. Make sure that you watch them carefully to ensure that they form them correctly.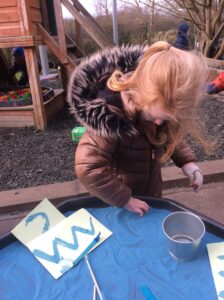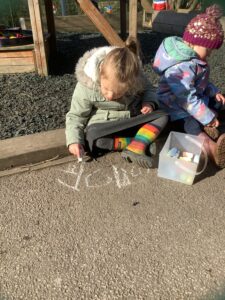 Writing – Encourage your child to pretend write such as making shopping lists or writing messages. 
Ask your child to help you make a list of things that you need from the supermarket. What sound does it start with? apples – do they have an a in their name? Can they remember how to write it?   If you are baking, ask them to help write a list of ingredients that you will need.
Role play going to a café. Ask your child to take your order and encourage them to write any sounds that they can hear, especially at the start of the word such as writing a letter m for 'milkshake'. Praise their attempts and at this stage, it doesn't matter if the letter is incorrect or not formed as it should be –  children are still learning and may only know a limited number of letters. They may also write symbols that resemble letters, this is a great start to early writing. 
Encourage them to make cards or write messages to you or family and friends.
Maths – Counting objects 1:1 to 5
Count anything and everything in everyday life!  Birds on the fence, coins, biscuits on a plate, apples in the bowl… 
It is often easier to count objects accurately if they are in a line so encourage children to touch/move each object as they count it.
Ensure that they only say one number for each object as they point to it/touch it.
Maths – Sing number songs to help show 'finger numbers' to 5
Here are a few number rhymes for you to sing at home together. Ask children to show the number on their fingers for each verse.
When you're out and about, or at home, ask children to show you 'how many' on their fingers.  At lunch time, you could ask, how many carrot sticks have you got on your plate? If you see a numeral 3 on a door, ask them to show you 3.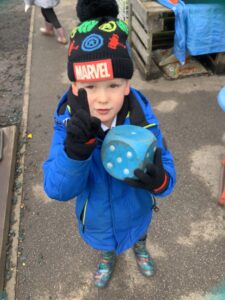 Maths – Subitising  – How many objects are there without counting? (up to 3)
What is subitising? Watch this short video to find out more.
Go on a subitising walk, look out for groups of 1, 2 and 3 objects.  You might look for similar objects such as dandelions in the grass that are growing close together in a group of 3 or 2 pebbles on the path.  Encourage your child to notice how many there are without counting them.
 Having peas for dinner?  Look at how the peas are arranged on your plate. You'll see that some are on their own, some might be next to another pea in a group of 2 and some might be in groups of 3. Spot 1,2 and 3 peas in a group without counting them.
Don't go out and buy new games, but have a look in the back of your cupboards, you might already have a game that requires your child to subitise, such as 'Spotty Dogs'  or 'The game of Ladybirds' by Orchard Toys.
Have fun working with your child on their target, and remember, please let us know how you're getting on and if you need any further help.