This week, we have been learning how to stay safe.
On Monday, we had a talk from the Dogs Trust. We listened carefully to a talk in the hall. We had to decide which situations were safe and which situations were not safe. Some of the children's comments are below:
"If a dog is sleeping, it's not safe to touch it."
"Don't stroke a dog when it is eating."
"If you see a dog all alone, don't touch it.  Wait until someone (an owner) come and ask."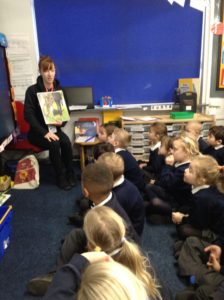 On Tuesday, we looked at ways to keep safe in school. We did an indoor/outdoor risk assessment.
"If you see a chair, put it under the table."
"You can't run  by the pool…it's wet and you'll slip."
"We can't run in the classroom. We might bump put heads."
On Wednesday, we looked at ways to keep safe on the road. We listened to a story about Super Cat, a cat who uses his senses for good to help children cross the road. We learnt the Super Cat's road safety rap.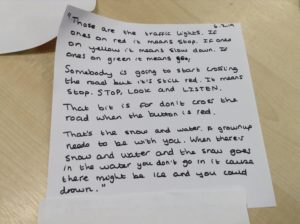 We also had a visit from the local fire station.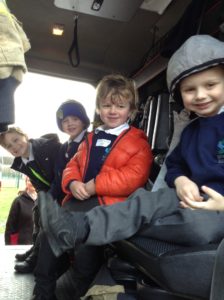 On Thursday, we listened to a story about Smartie the penguin. He taught us how to keep safe when using the internet. He told the children to always get support from a grown-up if something pops up on their screen and they don't know what to do. Smartie taught us another safety rhyme.
Home-link – 3 challenge cube
Can your child tell you 3 things they have learnt from safety week? Please email or write down what they tell you. This will support us in our assessment by providing evidence towards the health and self care strand of the EYFS.
Children  talk about ways to keep healthy and safe.