Has your child been singing more rhymes this week? We hope so!
'The Wheels on the Bus' has been very popular and has provided lots of mathematical opportunities too. Children have been counting people on to the bus, taking them off again and working out how many spaces were left and how many more passengers could get on.
In our creative area, we've continued to explore printing and patterns that we can make. We used Duplo bricks to make a wall for Humpty Dumpty to sit on.  We talked about the shapes that the bricks made when we printed with them.  Is it a rectangle, square or lots of little circles?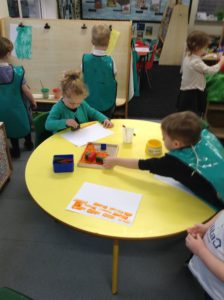 In our maths area, we sang 'Twinkle Twinkle' and talked about the different stars. Children lined them up to count them and were also able to sort them by size (big, small), colour (gold, silver) and appearance (shiny, dull).
'Incy Wincy Spider' had a great time in the water tray. There was lots of problem solving going on as children worked out how to get the spiders to move down the guttering. They used different containers to re-create the rain to help 'wash the spider out'.