We enjoyed learning all about the life cycle of a bean plant. We are just beginning to see signs of life in some of our beans. At the beginning of the week, children enjoyed talking about the type of plants that Peter
Rabbit likes to find in Mr McGregor's garden. They drew pictures of the plants and we used them to create a big map of his garden on the floor. We had great fun navigating a remote-controlled Peter Rabbit around the garden and we used lots of positional language.
Here are a few other things we've enjoyed this week:
looking at leaves with the digital microscope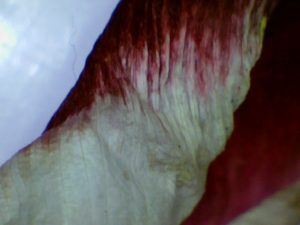 creating a new supermarket role play area and writing our own signs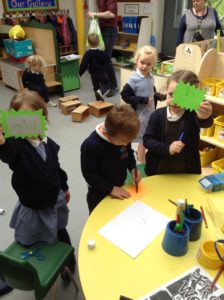 painting outside in the Tuff Spot
making a 'seaside' area on our stage outside
counting lots of satsumas at snack time
Children continue to watch the tadpoles and wait with excitement! We noticed a few of them have already grown back legs.
Week 4 – What are we learning this week?
Over the last couple of weeks, there have been a few recurring interests that we've noticed amongst children. The first is a fascination with very long worms and the other is an interest in wands, princesses and castles. So, as we like to follow children's interests as much as we can, we're going to learn about worms! We'll enjoy reading the popular rhyming story 'Superworm' and we'll use non-fiction books to find out fascinating worm facts. Listen to the CBeebies Bed Time story of Superworm.
In our sensory area, we'll have wiggly spaghetti worms and in maths, we'll be comparing and measuring the length of worms. We're hoping to investigate a different printing technique by using string to create worm prints.
Look out for some castle enhancements in our construction area and a new castle small world scene that we'll develop with the children. We're also aware that there's likely to be a lot of excitement and interest in the up and coming Royal wedding…
This week's letter sound will be 'Ww' for worm!
Listen to the Jolly Phonics W song and sing along at home.
What can you find around your house that begins with w?
Keep encouraging your child to hear the initial sounds in words by playing eye-spy games.
Reminder -Please remember to send only water in your child's water bottle and ask children to leave their toys at home to play with after nursery. Thank you.