This week, we have learned more about how incredible our bodies are.  We have: looked at a range of non-fiction books; set up an egg experiment; made a class shop and looked at the changes our bodies have made in our lives so far.
On Monday, we set up a scientific experiment. We took white duck eggs and placed each one in a different liquid. We used milk, water and coke-cola. The children made predictions and carefully observed any changes to the eggs. Professor Myers came to help us examine the results of our investigation. Our findings resulted in the following conclusions:
Water is good for your teeth-Jack

If you have a fizzy drink, you have to brush your teeth!-Reuben

Milk has calcium to help your bones-Eti

Milk is white like your teeth-Clara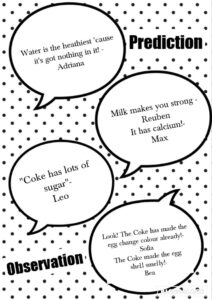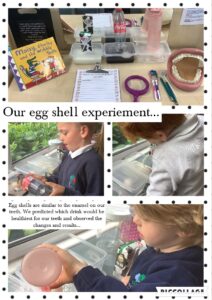 We have thought about: how our bodies have grown since being a baby; the things we can do now and the things we hope to do in the future. The children have produced some fantastic time lines that include their baby photographs that were sent in. (Sadly, we forgot to photograph the timelines but will pop them on after the holiday). Here are some quotes to make you smile:
I was so tiny-Sofia

I could only drink milk-Holly

I could not drink any orange juice!-Freya

My clothes were so small-Ronnie

Now I am 4/5 I can…

Ride my bike-Jack

Do cartwheels- Clara

Come to school – Ronnie

In the future…

I will drive a Lamborghini car!-Ronnie

I can walk to the shops-Jessica

Catch rainbows and drive an aeroplane -Bea
Our animal visit on Tuesday enriched our recent focus and learning about animals. We all loved it!
In Maths we have been introduced to a rekenrek. We have had one each to help us with our perceptual and conceptual subitising skills.
The children have been incredible at sliding different quantities smoothly. We have been using them to keep score in our table football challenges too!
Our class giraffe has helped us to measure our height and find out if we are taller or shorter than it.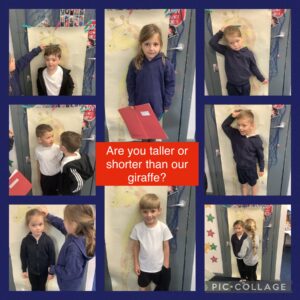 Our theme in provision has been the Queen's Jubilee! Look what we have been up to.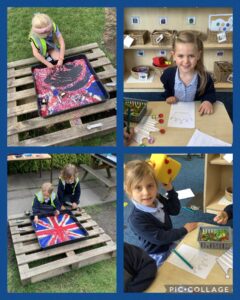 Home Link
Have a wonderful holiday and please send photographs of your adventures to us. We will see you back in school on Monday 6 June.