We have finished our topic 'Life on Earth' by exploring human bodies.
Using Non Fiction books, we were able to share our known facts as well as learn new ones.
In writing, we wrote our facts.
Science
This week, we have explored how to keep our teeth healthy by using eggs and different liquids we might drink.
We started by putting toothpaste on half of each egg and then putting them in milk, water, cola, and fresh orange juice. When looking at the sugar content, the children were able to make sensible predictions as to which drink might be the healthiest for our teeth.
It's stained. (cola) Jack

On one side it's dark and one side it's light. (cola) Alyzah

It had too much sugar. (orange juice) Zachary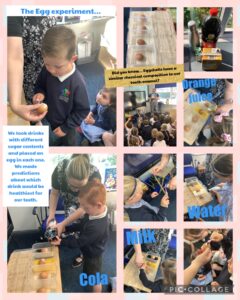 We also discussed the benefits of some of these drink for our whole body.
Milk is good for your bones and teeth. Ellie

Milk has calcium. Keira
Maths
We have continued to develop our subitising skills using familiar images and objects while introducing a new piece of equipment (Rekenrek) that allows us to explore the structure of small numbers and deepen our number sense.
Butterflies
Everyone was very excited to see the newly hatched butterflies on Monday morning. Throughout the week, the children have observed them closely and looked at the details on their wings and bodies.
On Thursday, it was time to release them outside. It was wonderful to watch them fly around our garden and even on one of the children!
Poetry Picnic
Each week we will be learning a new poem. We will recite this poem each day. By saying the poem out loud, we can focus on the sounds and rhythm of each word or line. We talk to the children about how this can help us become better readers. This week's poem is called Monkey Babies.
We talk about how a poem sometimes has rhyming words and sometimes doesn't. Can your child tell you the rhyming words in this week's poem? We also talk about how a poem can have a fast rhythm or a slow rhythm.
PE; Foot-Tech Academy 
A big thank you to Food-Tech Academy for the donation of new balls. We can't wait to use them to develop our skills next half term!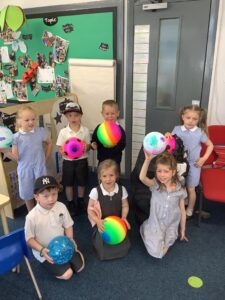 Click here to see Rainbow class enjoying using the new balls.
Reminders
Sun cream – Now that it's hot, please remember to bring in a labelled sun cream.  As your child will need to independently apply their sunscreen, please practise this at home.
Swimming
Rainbow -7 June, 21 June, 5 July, 19 July
Sunshine – 14 June, 28 June, 12 July