Welcome to our new families and welcome back to our returning ones! We hope that you've had a lovely summer break; we can't wait to see you all and hear all of your exciting stories about your summer adventures.
This week, staff have been very busy preparing Nursery for children to stay and play on Monday. Following the building work during the holidays, we had lots of furniture to move and boxes to unpack. We're pleased to say that Nursery is ready and looking very inviting – all we need now are some children to come and join Ferdie and Fern to play!
Staff and our Nursery foxes have also been out and about in Scholes and the surrounding villages, visiting our new children in their homes. It was lovely to meet everyone and begin to get to know you all. During these visits, we like to find out a little bit about what your child enjoys and we have incorporated some of the common interests into our Nursery provision.  This year's shared interests ranged from dinosaurs and construction vehicles to jungle/farm animals, baking and dancing.  In our reading corners, we have a selection of books that we know are already favourites such as the Gruffalo, The Very Hungry Caterpillar and Peppa Pig.
We're confident that children will find some thing that they like on Monday…. Here's a sneaky peak at what they have to enjoy!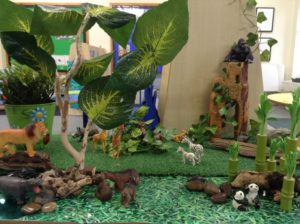 We're looking forward to seeing you all soon.
Returning children will join us on Monday morning from 8.30am until 12.30pm.
New children will join us for their Stay and play session with an adult (approx 1 hour) during the afternoon.