We enjoyed reading  'Oliver's Milkshake' this week, which is part of the same series of books as 'Oliver's Vegetables' written by Vivien French. We found out about where milk comes from and learnt that milk is good for our teeth and bones.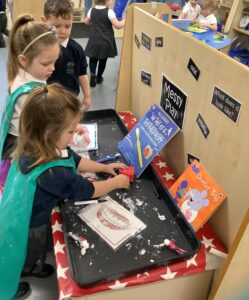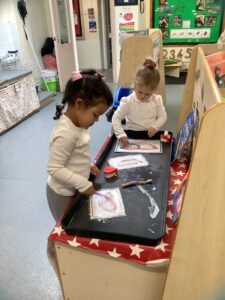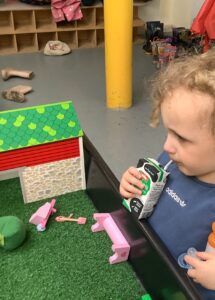 As we drank our milk at snack time, we continued to talk about how to keep our bodies healthy and how to look after our teeth. We used toothbrushes in the sensory area to clean the dirty teeth and we listened to some songs all about how to brush our teeth.  This song was our favourite!
We loved making some 'milkshakes' in the water tray and whisking the water to make it frothy.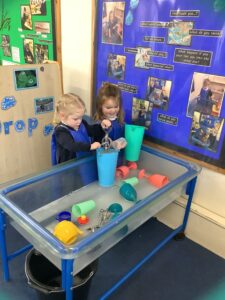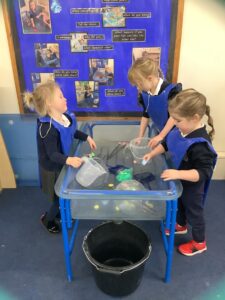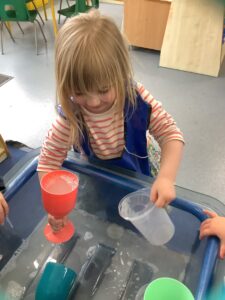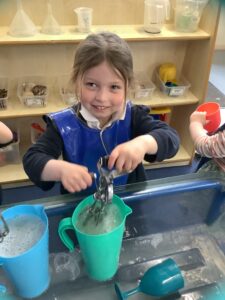 Help at home – Talk to your child about looking after their teeth and why it's important to brush them at least twice a day.
In maths, we're learning about the number four. We looked at four counters in a five frame and noticed that there's one space left. Outside, we tried to get four bean bags into the buckets.  We also tried to draw just four candles on a birthday cake. We counted carefully as we drew each candle and tried hard to remember to 'STOP' when we got to four.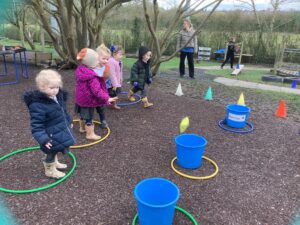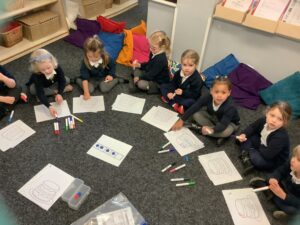 Help at home – Look for groups of four things. There might be four apples in the bowl or four trains on the toy track.  Look for the numeral four when you're out and about. You might see one on a button in a lift or on a bus number.  Can you jump/hop/clap four times? You could ask for help to set the table. Do you need four cups or plates? 
Next week, we'll learn all about Easter and have some Easter-themed fun!