Online Safety
Although we had a Safety Week last term, this is still high on our list of priorities, especially as we've started our new topic – Computing.
Computing topic
It'll no doubt be a very enjoyable and engaging topic for our pupils and they'll come home wanting to explore some more. There is a list of useful websites below for further coding, Scratch and online tools – you could explore together!
Golden Rules
Every week we shall be reinforcing the 'Golden Rules' with our children, which came from a helpful workshop GoWiseOnline last term, delivered by Sarah Lynch.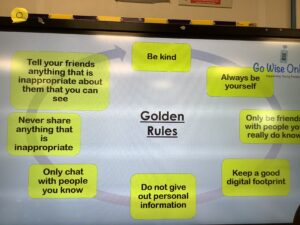 https://www.coderkids.com/blog/scratchjr-projects-for-kids