We have had a very exciting two weeks so far with our Pirates topic. To begin, the children talked about what they already knew about pirates. They enjoyed writing words and sentences and drawing lots of pictures.
When the children went to the library on Wednesday, there was a special message waiting for them from Pirate Pete.
Pirate Pete had snuck into school and left them a message in a bottle along with a book – How to be a pirate. We read the book together and brought it back to class. The children enjoyed finding out lots of new pirate facts.
The children were so excited to get a message – they decided to write thank you letters to Pirate Pete. They also had lots of questions they wanted to ask too. They wanted to know how old he was and also what Port and Starboard meant (as they had heard it in a pirate song we had been listening to).
Dear Pirate Pete. Thank you for the book.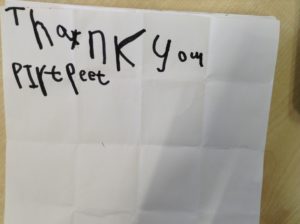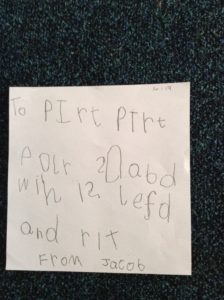 To Pirate Pete. Port starboard – which is left and right?
Today, when the children came to school they found two more letters (one for Rainbow class and one for Sunshine class). Pirate Pete had also sent a book to read, which told them all about his adventures at sea.
We read the Pirate Pete story together and this left the children with so many more questions and things they wanted to find out:
What does he eat?
How did he get a hook on his hand and foot?
What food does he like?
How did the shark bite him?
Does his parrot have a name? maybe it is Scurvy.
"He is brave" commented a child.
The children then wrote back to Pirate Pete to ask him lots of new questions.
Here there are 3 examples of children's writing
1: How can you eat? – In this example the child has written the initial sound for each word.
2: What do you drink? – In this example the child has used their phonic knowledge to segment the words.
3: How did the shark get you? – In this example the child is beginning to write sentences using some digraphs and the correct spelling for some tricky words.
Home-link – 3 challenge cubes
Can you support your child to use a laptop/ iPad to research and find out more about a pirates life or about some of the real life pirates?
Your child can record this however they like. Please bring it in to share with the class.
You can email any pictures of your child using an iPad/laptop to find information.  This will support us in our assessment by providing evidence towards the Technology strand of the EYFS.
'Children recognise that a range of technology is used in
places such as homes and schools. They select and use
technology for particular purposes.'