Our School Councillors were busy at work this afternoon, digging holes and planting young trees in and around our school field.  There were roses, hawthorns, dogwoods, wild cherries and silver birches.
There were 120 saplings to plant and, with the help of Scholes in Bloom volunteers,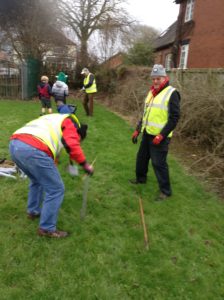 ….they manged to do it all in one (cold and windy) afternoon!
Thank you very much to our fabulous friends, Scholes in Bloom, who kindly gave up their time to help us – we couldn't have done it without you!
Thank you to Mrs Latham who ordered the trees and organised the afternoon.  We promise to look after them and will enjoy watching them grow.