Our focus book has been 'The Rainbow Fish' by Marcus Pfister.
In this book the Rainbow Fish shares it's shiny scales with its friends. We had a class shiny scale and passed it onto a friend when we noticed them doing something praise worthy. Here are a few reasons that the children passed on the shiny scale:
I gave it to Stanley because he's my very best friend.-Leo

Ella because she was doing good swimming.-Freya

I gave the shimmering scale to Max because he is my best friend.-Jack

Jacob because he's a good friend and has good manners.-Marshall
Our provision has reflected this under water theme and the children have completed many related challenges:
Our new artist is Katsushika Hokusai. He is famous for his paintings, drawings and printings. In Literacy we read non-fiction text about him and answered comprehension questions about his life. Does your child remember where he was born? We had a go at recreating some of his sea art through printing and painting. We also drew our own fish and cut it out.
Swimming was brilliant for Rainbow this week, they completed so many laps in their triathlon. The swimming coach gave them all  a shared Golden Assembly certificate. It is proudly displayed in the classroom.
The weather has really enabled us to enjoy our outdoor learning. Thankyou for remembering to apply sun lotion to your child on a morning and for sending them with sunhats. Please continue this throughout the coming weeks. Here we are having a little Sports Day initiation too.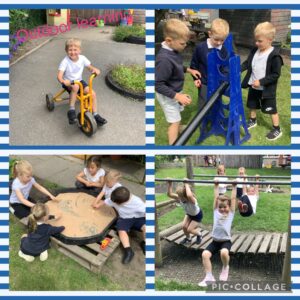 Home-Link
You may have spotted our outdoor Fish and Chip shop. This week, could your child write a price list/menu for our new shop. Please send your photographs of the work to us.