We hope that your child has already told you all about their learning this week. They've been talking about keeping safe; hopefully they will have shared lots of safety tips with you and told you all about the special visitors that came to Nursery.
At the beginning of the week, children helped to carry out risk assessments for Nursery's indoor and outdoor area. They spotted things that might cause them to trip or slip and talked about where was/wasn't safe to play when it's icy or wet outside.
There's a great game on the Nationwide's website where children can explore a virtual home and spot the dangers. (Link to follow shortly.) Children were very good at this! Well done, Nursery.
On Wednesday, we were joined by Lollypop Lady Sue.  Lots of children recognised Sue and knew that she helped us to cross the road safely. We looked at Sue's special high visibility jacket and her Lollypop sign. Some children recognised the 'STOP' letters and we sounded them out to read the word. Sue had lots of safety tips for us for how to travel to school safely. She reminded children to always hold their adult's hand when they are walking on the path and crossing the road. We also talked about travelling in cars and reminding parents and carers to park safely, away from the school's zig zag lines and driving slowly. We watched a video about road safety which gave us the message to "Stop, look, listen and think" before we cross the road.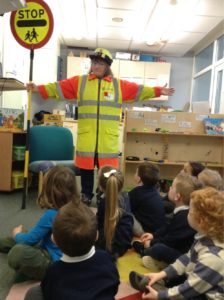 Another highlight of the week had to be a visit from the Fire Brigade. Children were really excited and enjoyed hearing the loud siren and feeling how powerful the water hose is! To follow on from their interest in fire fighters, we have created an Emergency services role play area with the children's ideas. They suggested lots of things that they would need and enjoyed answering 999 calls.