This half term we are looking at plants and what they need to survive.
We have planted seeds, bulbs and peas and put some of them into different conditions. We started off by planting bulbs (see below).
We kept watering two of our bulbs and they started to grow! See our 3 week progress picture below. We noticed that these bulbs started to grow roots, and several green shoots started to grow from the top.
The bulbs that were not watered did not grow at all and have started to turn brown.
We also planted 6 different types of seeds. Our sunflowers have been the most successful so far. We decided to move them to their own pots to grow the best that they can.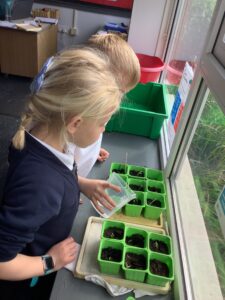 Once the plants grow a little bigger, we are hoping to plant them outside, around our KS1 playground.
It has been brilliant to see how engaged the children have been with the Science topic this half term. We can't wait to see how our plants grow and what will happen next.
Help at home by encouraging children to plant some seeds, bulbs or peas of their own!