Thank you to everyone who e-mailed us information about your holiday activities and brought in a leaflet from somewhere you had visited. This really helped children to remember and talk about their experiences.  As you'll have read on our recent letter, whenever you take part in a Home Link activity, we'll add a star to your child's photograph. Don't forget to tell us when you've completed one!
This week, we talked about how Christians celebrate Shrove Tuesday. We enjoyed lots of pancake day fun, including making our own pancakes and sampling different toppings at snack time. We learnt a rhyme too… Mix a pancake, stir a pancake, pop it in the pan. Fry a pancake, toss a pancake, catch it if you can!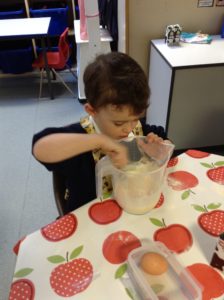 We continued to 'make' pancakes in the malleable area throughout the week, although we found flipping them in the pan quite tricky! In the sensory area, children loved using the lemon juicers to squeeze out lots of lemon juice.