We had some very mixed weather this week again, but when the sun came out, so did we! The children enjoyed singing together in the sunshine and using the bikes, climbing frame and slide.  As we posted a few weeks ago, behind every photograph, is lots of learning.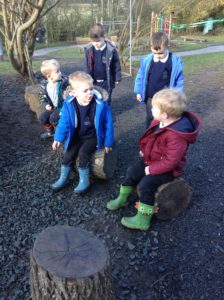 Whilst lots of people may just see children having fun riding bikes and whizzing down the slide, we see this too, as well as lots of aspects of the Physical Development part of the Early Years curriculum being developed.
In the 30-50 months developmental band for Physical Development, children should be able to:
Move freely and with pleasure and confidence in a range of ways such as slithering, shuffling, rolling, crawling, walking, running, jumping, skipping, sliding and hopping.
Mount stairs, steps or climbing equipment with alternate feet.
Walks downstairs, two feet to each step while carrying a small object.
Runs skilfully and negotiates space or direction to avoid obstacles.
Can stand momentarily on one foot when shown.
At the end of the week, as part of Sport Relief, we took part in an obstacle course which practised many of these skills. Photographs to follow soon!
We loved listening to the story of Jack and the Beanstalk this week so we're going to continue with this story into next week. We'll also be learning about changes that we can see around us during spring and Mother's Day.