Can you believe we're half way through Spring 2 already?! We've got even more great things planned for the rest of the term, so watch this space! Here's what we've been learning this week.
The Hundred Decker Bus
This week, we've been reading another 'Hundred Decker' story by Mike Smith. The Hundred Decker Bus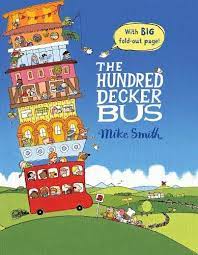 In this story, a driver who is bored of his daily routine decides to take himself and his passengers on a long 'adventure'. As more people get on the bus, more decks need to be built!
Linked to the story, we've been comparing cities/towns to the countryside, discussing similarities and differences. Countryside is our 'word of the week'.
We've also been playing 'eye spy' in our writing task, looking closely at just one of the decks.
Did you know?…
Each morning before phonics, the children take part in an independent writing challenge. They look at an interesting 'image of the day' and simply write anything that they notice. This has really boosted the children's confidence to 'have a go' at writing on their own. Take a look at some of this fantastic independent writing.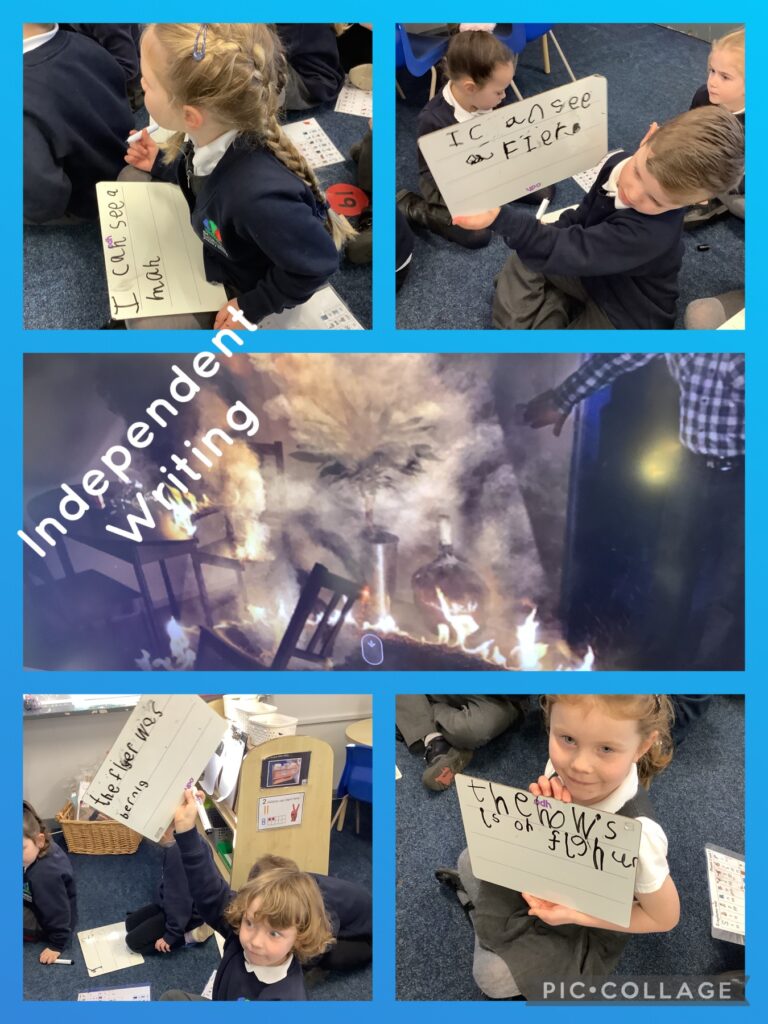 Computing
This week, we've been using Bee-bots. Bee-bots are an early coding resource. Children have to program the bee using directional and 'GO' buttons. They have to pre-plan the algorithm they need to enter, to successfully get the bee to its intended location.
RE/ Living and Learning
We've been thinking about how special times are celebrated. Wednesday 8 March was the Hindu festival Holi. Here's what the children remembered about the festival.
For the celebration, they celebrate colours, Spring, love and new life!- Ted

They got messy with paint!- Mollie B

The temple was very special- Tilly

They eat lunch (at the temple)… it's really nice and special- Esther
We decorated outlines of people with colourful Holi paint.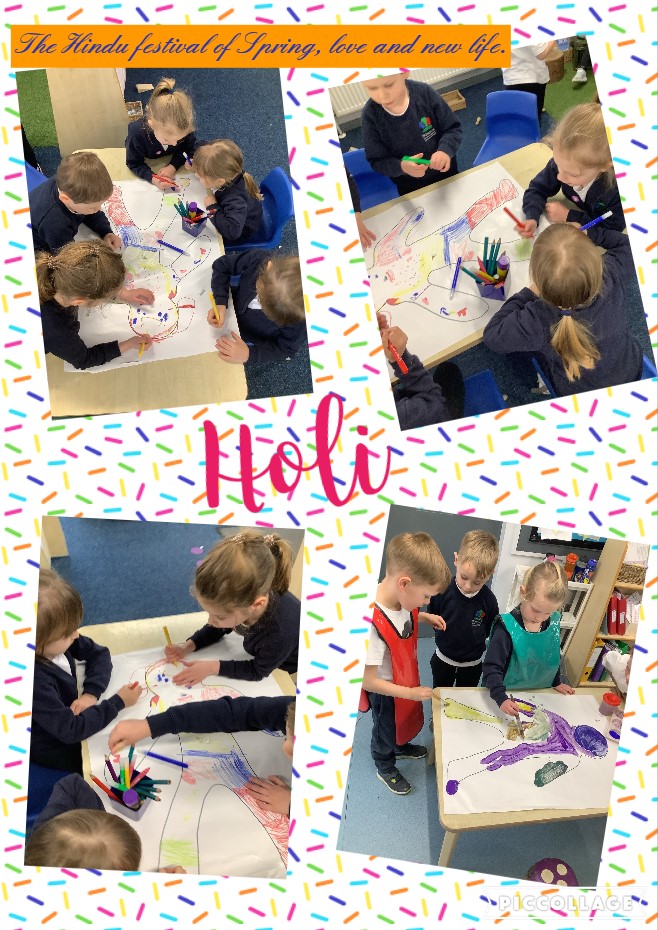 As a time to celebrate with friends and family, we linked Holi to our living and learning statement: I recognise that friends and family are important. We spoke about our loved ones in our families and some children chose to draw their family too.
Snow much fun!
Snow always brings much excitement. We've enjoyed short bursts of time exploring the snow. On Thursday, we had a snowman building competition to see who could build the tallest snowman in ten minutes. Each team decided on a name for their snowman. We had Timmy, Daisy, Mr. Grinch, Chocolate, Slippery, Stanley and Cupcake ⛄ Well done to team Chocolate, who built the tallest snowman at 73cm!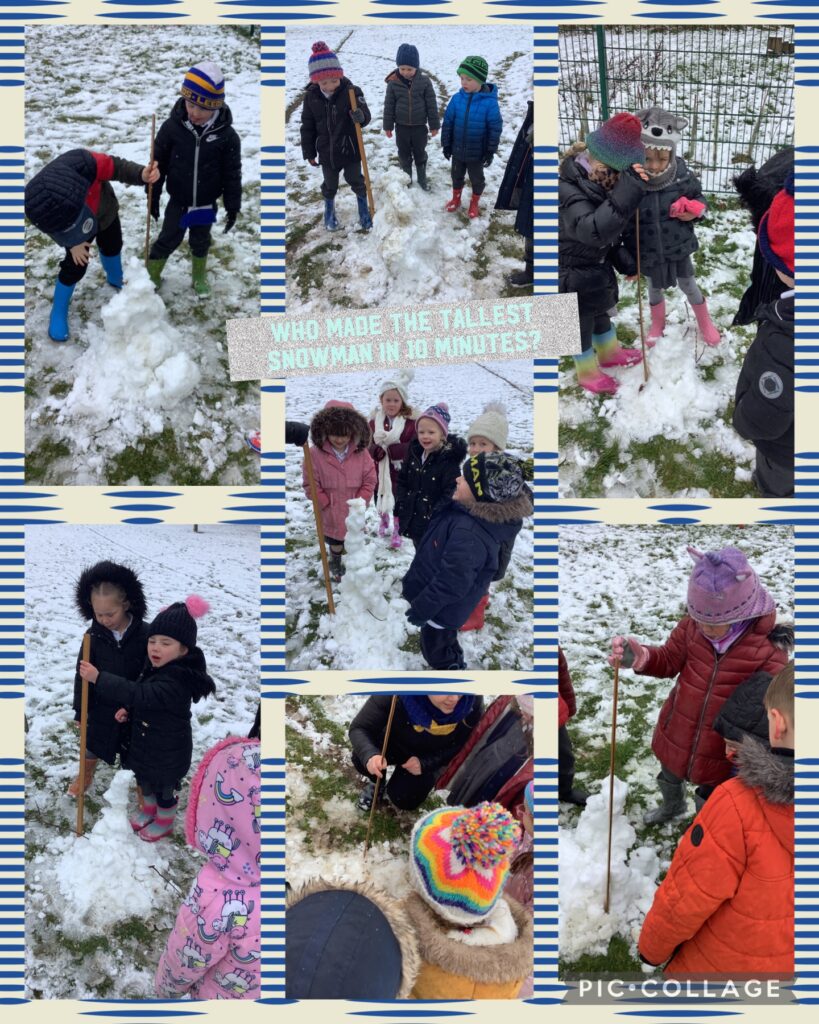 Maths
In Maths, we've been comparing numbers and noticing whether change creates a number that is more or less than another.
In provision, we used the 'bus stop' number story to explore subtraction (creating less) and recorded our number stories.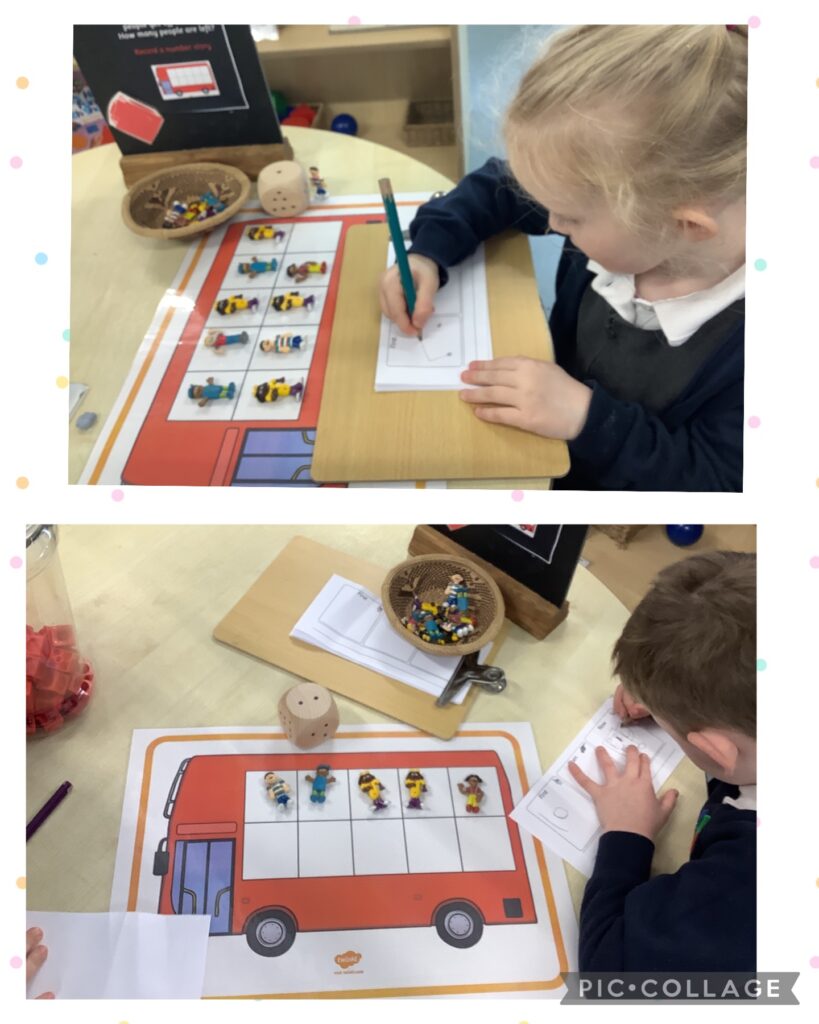 Phonics
Spring 2 week 3 has been a review of phase 3 sounds, reading words with two or more digraphs. We review tricky words daily.
Tricky words can be just that-tricky! We've previously introduced a few fun games you can play at home to practice tricky words. Here's another you could try…
Tricky word stick person (a modified version of the 'hangman' game)
We often play this game in class. Write the correct number of dashes for your chosen tricky word and let your child make guesses. Encourage your child to use letter names rather than sounds for spelling tricky words. Draw a part of the stick man for each incorrect guess- you can give extra chances by adding a hat, shoes, gloves etc. to the stick person!
Poetry Picnic
Each week we will be learning a new poem. We will recite this poem each day. By saying the poem out loud, we can focus on the sounds and rhythm of each word or line. We talk to the children about how this can help us become better readers. This week's poem is the traditional nursery rhyme Pat-a-cake, Pat-a-cake
We talk about how a poem sometimes has rhyming words and sometimes doesn't. Can your child tell you the rhyming words in this week's poem? We also talk about how a poem can have a fast rhythm or a slow rhythm.
As a traditional nursery rhyme, we spoke to the children about how words might change in different versions of the song- you will see this in our video.
Reminders and Dates
Comic Relief: Red Nose Day- 17.03.23 We will be marking the occasion in school with a non-uniform day and invite you to make a donation. Find out more about Comic Relief:
https://www.comicrelief.com/rednoseday/
Reception's Class Assembly- 24.03.23 3pm You are invited to our class assembly, where we'd love to share our learning with you.
Reception trip to The Railway Museum, York- 30.03.23 Please drop-off and collect your child at the usual times. School can provide a packed lunch but if you'd prefer your child to bring their own, this is also fine. Every child will need a suitable backpack that they are able to carry themselves throughout the day. More details and a letter will be sent home.