Children returned to Nursery with beaming smiles and were excited to see their friends. We loved hearing about your holiday adventures which included cooking sausages on the BBQ and hunting for eggs in your gardens, visiting the seaside, feeding lambs at the farm and flying on orange or blue aeroplanes.
This week, we enjoyed listening to 'Supertato' and finding out about what happens in the supermarket after dark!  Children enjoyed making Mr Potato head characters in our fiddly fingers area, rolling little peas in the dough and using the small world figures to create their own superhero stories.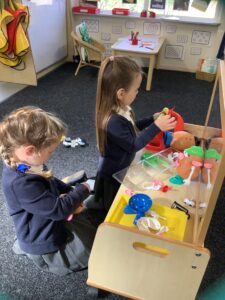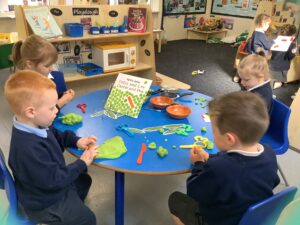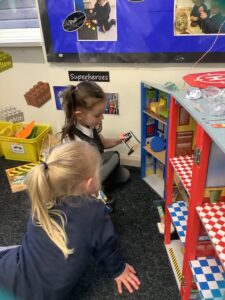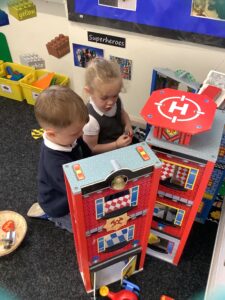 In the sensory area, the Evil Pea and his friends had escaped from the freezer! Children enjoyed scooping the frozen peas and watching what happened to them once they'd been out of the freezer for a while. They also loved mashing them to create mushy peas.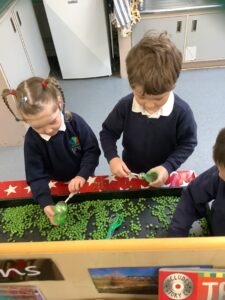 In maths, we continued to practise our sorting and counting skills, sorting the vehicles by colour and type and counting how many were in each group.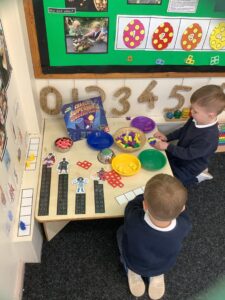 Following the children's interest in magnetism, we've created a discovery area with lots of magnetic items to explore.  Children carried out their own investigations around Nursery, taking the magnets into different areas to test what they would 'stick' to. We looked at the different items that they found the magnets were attracted to and some children noticed that lots of them were made from metal and not plastic. What super scientists we are!