This week, we have been reading The Very Hungry Caterpillar. Using story props and sequencing cards, we have been able to retell the story.
In our writing, we have been composing sentences to retell main events of the story.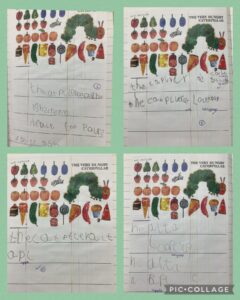 Maths
This week, we have continued to develop our subitising skills (see the quantity without counting) in complex arrangements.
We have explored creating arrangements of 6.
Phonics
This week, we have continued to learn phase 4 words such as frog, shift, chimp and drum.
We've also learnt more phase 4 tricky words; some, come, love and do
Help at home- Please continue to work through the weekly learn at home phonics sheets, throughout the Summer term. We'll continue to send these home each Friday.
Poetry Picnic
Each week we will be learning a new poem. We will recite this poem each day. By saying the poem out loud, we can focus on the sounds and rhythm of each word or line. We talk to the children about how this can help us become better readers. This week's poem is called Under a Stone.
Other learning areas
The children have loved creating their own bug houses in the model area as well as building a bug hotel outside for real minibeasts.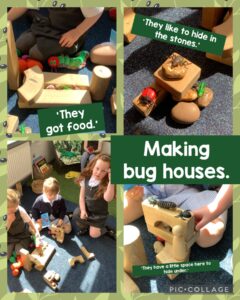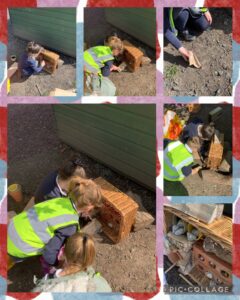 The children have been amazed at the rapid growth of the caterpillars. Each day, we have observed how they have changed and recorded what we noticed.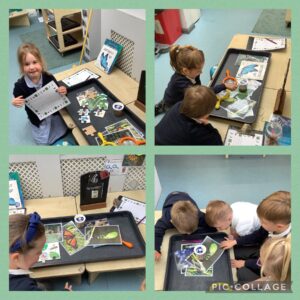 They have got bigger!

One has a white stripe now.

They look spiky.
Reminders and Dates
Friday 5 May – Non-uniform day with everyone invited to dress in red, white and blue to mark the coronation of King Charles.
Friday 19 May – Mini Bug Ball
Please don't go to the expense of buying anything new – creative adaptations of something you've already got will be fantastic.  Outfits need to be suitable for school, safe and warm enough to be worn all day.
SWIMMING DATES- Summer 1
Rainbow Class- 19 Apr, 3 May, 17 May
Sunshine Class- 26 Apr, 10 May, 24 May
We know that Rainbow class missed a swimming session in Spring 2 due to the pool closure. This should be made up in Summer 2, which is a 7 week term.