Welcome Back!
We were so excited to welcome Reception back this week, after a very wet and windy half term break. Our outdoor area definitely felt the effects of storm Eunice but was soon back in action!
Let's Go! is the name of our theme this term. We'll be looking at the season of Spring and growing. We'll also be looking at different journeys and the vehicles we might use to make them. At the end of the term, we will be learning about Easter.
The Very Hungry Caterpillar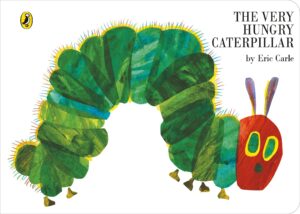 This week, our focus story was The Very Hungry Caterpillar by Eric Carle. We hope you enjoyed seeing the story come to life through the Reception Team's World Book Day costumes!
This book has so many great learning aspects; we discussed days of the week, the life cycle of a butterfly, the 'one more' aspect of what the caterpillar eats at the start of the story and of course, we enjoyed re-telling the story.
Each morning the children wrote down their breakfast, to create a food diary.
We've also enjoyed creating symmetrical butterflies, sorting fruit and vegetables into where they grow, exploring our sensory tray, making dough characters from the story and more!
Maths
This week was all about meeting number eight and comparing numbers, especially identifying 'more' and using 'one more' to re-visit the 'staircase pattern'
Can your child tell you how we make a staircase pattern?
World Book Day 2022
Wowee! What amazing costumes we saw on Thursday. Thank you for participating and for sharing your favourite books from home. Both the children and staff had a great day. World Book Day is one of our absolute favourite days in the school year, because reading and encouraging a love of books is so very important.
Home-link challenges
Next week, as part of our Let's Go! theme, we will be reading a story about a journey into space. Please help your child find a fact about space that they can share in class. This could be specific to the vehicle used to travel to space or a general fact about astronauts/ space.
We'd really like to display some pictures of the first signs of Spring. If you go on a day out or a walk outside, please send in photos of anything you spy that is beginning to grow!
Reminders and messages
-Wellies: If your child does not currently have wellies in school, please bring them in. Due to the weather, our outdoor areas continue to be super soggy and muddy!
-PE: This half term, PE days will continue to be on a Wednesday and a Friday. Swimming for your class will be on the following dates:
Sunshine: 2 March, 16 March
Rainbow: 9 March, 23 March
-Shoe boxes: To support with our learning next week, please send in an empty shoe box.
-Potting and planting: At this time of year, we really appreciate any donations of spare compost, plastic pots and seeds. If you have any you would like to donate to our Early Years classes, please hand them to your class teacher. Thank you.