We can't believe that we're now entering our final half term of this academic year!  Over the next few weeks, we're going to be learning about different types of transport. We'll be looking at whether something travels by land on a track or the road, or if it travels by air or sea.
To start our transport theme, this week, we've listened to some stories from 'The Little Red Train' series of books. Children enjoyed hearing about Duffy Driver and his adventures on The Little Red Train.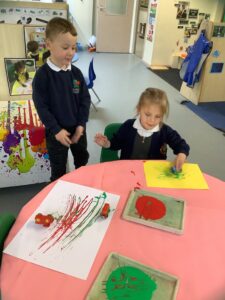 In group time, our maths focus has been talking about our daily activities and using words to describe when things happen such as during the day, night or in the morning or afternoon. We looked at our daily routines and tried to sequence the events.  Try to use some of this language at home, too.  What happens in your house in the morning? What do you do as part of your bedtime routine? What comes first, next, last?  What day is it today? Do you go to Nursery tomorrow? 
In phonics, we're learning to orally blend words. We'll be doing lots of 'sound talking' over this half term to give children plenty of opportunities to develop their oral blending before they move into Reception.  For example, when giving instructions, we may segment the last word into separate phonemes and then immediately blend the sounds together to say the word (e.g. It's time to get your c-oa-t, coat!). Have a go at home. Whilst setting the table, you could say…Can you put the c-u-p, cup on the table, please. Where is the f-or-k, fork?  To begin with, try to keep it  simple, with one syllable words.
Outside, children were amazed at how much our plants have grown in the vegetable planter over the holidays. We could even see some radishes poking out of the soil. Children enjoyed picking the biggest ones and we washed them to eat at snack time. There were very mixed reactions; some children loved the 'crunch' of the radishes and others weren't too keen on the flavour! Well done, Nursery. It's always good to try something new – especially when you have grown it yourself!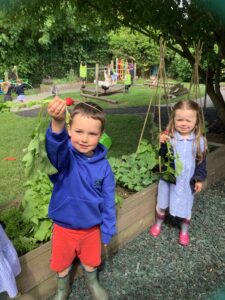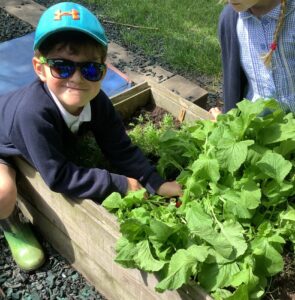 Next week, we'll be looking at different types of vehicles with wheels. If you, or any of your family, have any toy cars, trucks, monster trucks etc. that you no longer use at home, Nursery would be grateful for any donations. Thank you.
Reminders
Our Nursery registration closes at 9.10am. Please ensure that you arrive to Nursery between 9-9.10am to allow us to begin our learning activities on time. Thank you.
Please send your child with a rain coat to Nursery everyday; the weather is very changeable at the moment.
We have lots of water bottles that don't have children's names on – remember to check that your child's hasn't worn off. You may also want to check cardigans and jumpers, too.