Children were keen to learn about our feathery friends this week.  We listened to many stories about owls and enjoyed re-telling 'Owl Babies' in our small world area. Some children were beginning to join in with the repeated refrains in the story, especially the phrase "I want my mummy!"  We used this story to talk about missing our own family whilst learning at Nursery. Being able to separate from a carer and talking about family is part of the Early Years Foundation Stage Curriculum. It is included in the prime area Personal, Social, Emotional Development and is part of Understanding the World.
We've been creative with loose parts this week too; children have enjoyed creating owl faces both inside and outside.  In the creative area, children really concentrated for extended periods of time carefully whilst carefully selecting the dried peas, lentils and pasta to create owls with eyes and beaks.  This was a very fiddly activity and was a great way to help children practise using a pincer grip.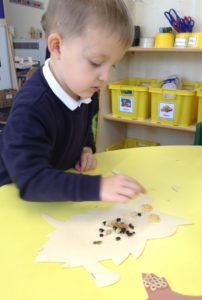 Outside, we collected autumn leaves and twigs and used the contents of our autumn bags to create larger pictures on the floor. Some children helped to make an owl with large sticks for wings and leaves for feathers and another child created Santa. If you look carefully, you will be able to see his eyes and a beard of leaves and conkers!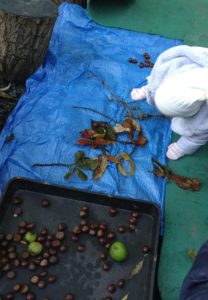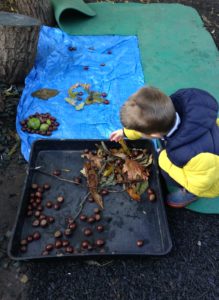 Following other interests this week, we moved some wild animals to our sensory area where they are now happily stomping in 'mud' (cornflour gloop).  Children were intrigued by the texture and feel of the mud. It was cold and wet but could also be runny.  It took some children a while to explore, dipping in a finger at first and then their whole hands!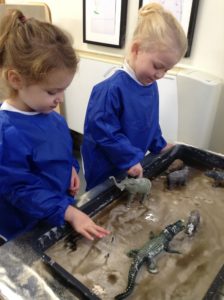 Reminders
Friday (25.10.19) is a training day so school, including Nursery, will be closed.
Please sign up for a Parent's consultation appointment if you haven't already.