Whilst we haven't had much frost, snow or ice yet this winter, it was quite chilly one morning this week. So much so, that children decided they needed to do something to warm up.  We had great fun chalking an obstacle course on the path. It began with children talking about cracks in the ground; we drew some lines/cracks to carefully balance along and then drew some lava to jump over and stepping stones to hop between.  Children took turns to balance along the cracks and jump over the hot lava.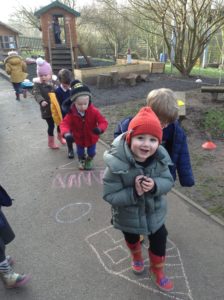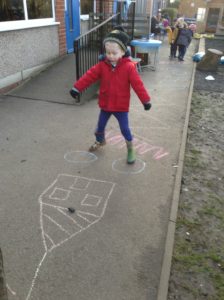 Physical Development is one of the Prime areas of the Early Years Foundation Stage. Children working within the 30-50 month developmental band should:
Move freely and with pleasure and confidence in a range of ways, such as
slithering, shuffling, rolling, crawling, walking, running, jumping, skipping, sliding and hopping.
Mount stairs, steps or climbing equipment using alternate feet.
Walk downstairs, two feet to each step while carrying a small object.
Run skilfully and negotiates space successfully, adjusting speed or direction to avoid obstacles.
Can stand momentarily on one foot when shown.
Children continued to enjoy the dinosaur enhancements and as requested last week, the new unicorn rainbow drops in the sensory area were very popular, with both boys and girls. There was lots of scooping, filling, emptying and pouring.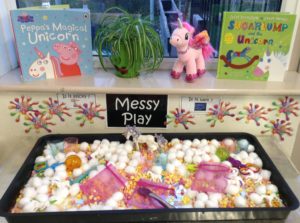 Over the last few weeks, children have continually returned to a game where they play 'librarians'. As a result of this continued interest, we've created a mini library role play area in the Sunshine room and during group time, children enjoyed visiting the school library.