This week, we've been very busy getting the classroom ready. We're excited for your child to see their new classroom environment in the next few weeks.
Mrs Myers has been practising her letters and sounds.
Mrs Flynn has been stomping around with the dinosaurs.
Mrs Kirby has been busy building with the bricks.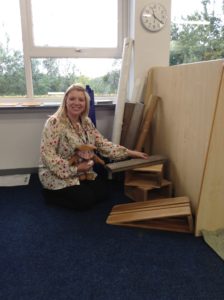 Mrs Palmer has been reading and re-telling stories.
Our class teddies are also new to Foundation 2 this year. They haven't even got a name yet! We thought it would be fun for the children to decide what to call the class teddies this year. The class teddies are very special as at some point in the year your child will be able to take them home – so they end up on lots of adventures with the Foundation children! Some children may meet our class teddies this week when they are out on their home visits meeting children who are new to school.
We're looking forward to welcoming children into Foundation 2 next week.