We've enjoyed reading 'What the Ladybird Heard' this week. It's written by one of our favourite authors, Julia Donaldson.  In the story corner, children enjoyed playing with the story props to re-tell the story and they were especially interested in the map that the burglars used to try and steal the fine prize cow.
Children made their own maps and took them outside to locate the prize/treasure that they'd hidden.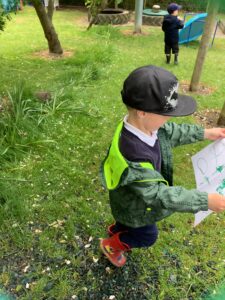 In group time, we played I Spy using the animals from the story. We had to listen very carefully to the sound. Some children noticed that some animals started with the same sound, such as 'h' for horse and hog.  We're working really hard to help children identify the initial sound in words at the moment. Have a go at playing I Spy at home this week to help reinforce this learning at home. 
Here are a few other activities from this week:
Exploring the texture of moon dough in the sensory area. It was very crumbly but you could also mould it in to mini sandcastles.
Subitising spots on a ladybird
Counting out the correct number of legs for our paper plate ladybirds
Matching the number of spots on the ladybird to the numeral
We were also very excited to find a chrysalis on Tuesday morning! We have one caterpillar left and it's getting bigger and bigger.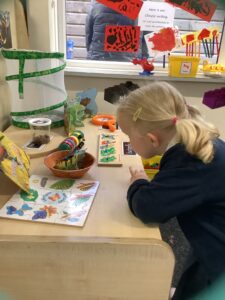 Finally, thank you to everyone that attended our drop-in session on Monday to look at your child's Learning Journal. It was great to see parents and carers back in Nursery after such a long time of restrictions due to Covid-19.  Our final drop-in session is on Wednesday 18 May from 4.15pm until 5pm,  please call in if you can to have a look at what your child has been learning in Nursery this year.
Don't forget – 'Walk to school' week!