It's hard to imagine we are at the end of our third week of term, time is flying by so fast at the moment!  Another superb week of learning in Class 5/6A.  Year 5 started the week by reading the Hilaire Belloc poem "Matilda" and using our inference reading skills to determine how certain characters acted when experiencing particular emotions.   In Maths, Y5 have been using Gattegno charts to answer place value questions, and partitioning numbers up to 1,000,000!
I am immensely proud of all of Class 5/6A for their efforts in Writing this week.  All week we have been building up towards writing a passage to depict how  we would open the package if we were in Lil's shoes in our class novel; "Secrets of a Sun King".  Using a variety of sentence starters, similes, metaphors and adverbials, they have produced some superb pieces which will be adorning the walls of the classroom next week.  Our Y5 class ended the week practising our debating skills; using structured sentence openers to put their point across whilst respecting the opinions of others.  We had some entertaining debates over how fun poetry can be, and if tomato ketchup was the best accompaniment for chips.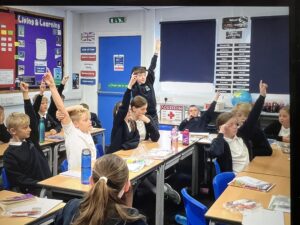 If your child comes home tonight shouting "Salve!" (Pronounced 'sal-way'), then they are greeting you in Latin.  We have had a lot of fun today greeting each other and beginning our journey for this year into Latin.
Finally to this week's winners ………
For great learning…
Sadie – consistently working hard in all lessons, showing a significant improvement in her arithmetic test score, and producing an excellent piece of writing to depict a character's dilemma on opening a parcel which didn't belong to her.
For sport and physical activity…
Elisa– Raring to go after injury, she has given 110% in P.E this week.  Displaying great teamworking skills in our warm-up games, and excellent hand-eye coordination in our volleyball passing.
For living and learning…
Travis– Our focus this week has been using good manners and throughout school you are always showing this; warm greetings for friends and teachers, using please and thank you, and asking questions in a respectful manner.  Great job!
Have a great weekend!