We've really enjoyed singing lots of Nursery Rhymes this week, so much so, that we're going to continue with the theme next week too!
If you haven't completed our Home Link activity yet, there's still time. Please bring in a picture/prop/toy that reminds you of your favourite Nursery rhyme. Here are a few that we had from last week… a dish and a spoon (Hey Diddle Diddle), a rabbit (Sleeping Bunnies) and a monkey (5 Little Monkeys).  What is your child's favourite rhyme?  
Some of our enhancements in Nursery this week were linked to popular rhymes, all of which can be found on the Nursery Rhyme booklet that we sent home at the beginning of the week.
In the water area, we sang 'I'm a Little Teapot' whilst investigating capacity and pouring, filling and emptying.  If you look carefully, you can see we had teabags too. This was a good conversation starter. What happens to the colour of the water? What's inside? Does it smell?
t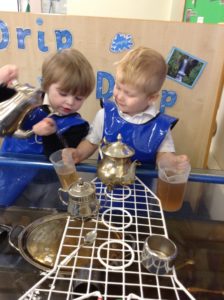 In our sensory area, children had great fun building a wall for Humpty Dumpty. Sadly, he didn't survive his fall and we couldn't put him back together again! At the end of the week, we had some very sticky hands as children explored the texture and properties of jelly!  Jelly on a plate, jelly on a plate, wibble wobble, wibble wobble…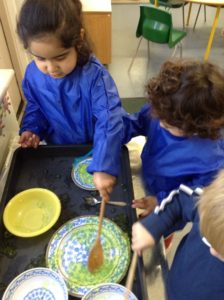 We also enjoyed singing lots of other rhymes including '12345 Once I caught a fish alive' and 'Jack and Jill'.