Phonics
This week, the children have learnt the phonemes (the sound a letter makes) h, b, f and l. They've also been practicing writing the graphemes (the written letters). We have been challenging the children by asking them to spell words using the letters that they know. This week your child has been spelling the words; dog, ten, red, mum and kid. Can your child tell you what phonemes (the sound a letter makes) they can hear in these words?
| | | | | |
| --- | --- | --- | --- | --- |
| d-o-g | t-e-n | r-e-d | m-u-m | k-i-d |
This week, your child has learnt the tricky word; the. A tricky word is a word you cannot sound out – you just have to know it by sight! The children now know THREE tricky words; I, is and the. You could write these words on paper and stick them around your house. Keep challenging your child to read the tricky words. The more practice the better since they need to be learnt by sight!
Maths
This week, we have been listening to sounds on a drum and counting the beats we can hear. The children have been practicing counting these in their head quickly too! They have also been exploring how they can show a number on their fingers in different ways.
Clap slowly and ask your child how many claps they heard. Ask them to show you on their fingers how many claps they heard. Can they show you in a different way on their fingers?
Henri Matisse
We have been listening to the story Henri's scissors and have learnt about the artist Henri Matisse. The children have enjoyed looking at his artwork which has inspired their own creative work!
Top tip for watching YouTube with your child: go to the settings cog (it's along the play bar) and turn off auto play – this avoids an inappropriate clip coming up automatically, and helps to discourage your child from passively watching clip after clip.
Poetry Picnic
Each week, we will be learning a new poem. We will recite this poem each day. By saying the poem out loud we can focus on the sounds and rhythm of each word or line.
This week's poem is Leaves are falling.
Ask your child to say the poem to you at home! The words were sent home with your child on Friday. Can they remember it?
Phonics stay and play
Thank you to all parents who came to the stay and play on Wednesday. It was fantastic to see so many of you there! We hope you went away with ideas of how you can support your child's learning at home. The children were really proud to show you their classroom and fantastic learning. Any questions, please don't hesitate to get in touch.
If you were unable to attend, you should have received an information booklet – we hope this helps. There are lots more stay and plays planned throughout the year too:-
Stay and Play sessions
This is an opportunity for you to come into school to find out about the Early Years Curriculum and watch your child learning in school.
Marvellous Maths – Thursday 17 November 9.00 – 9.30
Funky Phonics Phase 3 – Monday 16 January 9.00 – 9.30
Fiddly Fingers – Friday 03 February 2.50 – 3.20
World Book Day – Thursday 02 March 9.00 – 9.30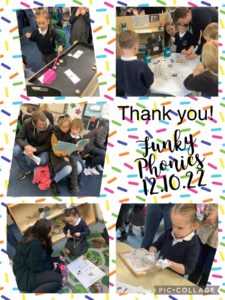 Learn at home phonics sheet
Today, your child has come home with a 'learn at home' phonics sheet. The sheets link to our current learning in phonics and will be sent home each Friday. Please support your child by practising their new sounds and reading skills at home.
Home link
Your child will have received an autumn collecting bag on Friday. Please enjoy going on a walk together over the next few days and see what 'autumn treasure' you can find. When you've filled your bag, please return it to Reception for us to share and talk about. Next week, we will be learning lots about seasonal changes, autumn and reading the story the Leaf man.