In May 2019, Ofsted rated us 'good' (2019). The rating of good applies to all areas: effectiveness of leadership and management; quality of teaching, learning and assessment; personal development, behaviour and welfare; outcomes for pupils; and early years provision.
The report is very positive about our school. Highlights include:
'Across the school, including in the early years, teaching is good. Relationships between staff and pupils are strong.'
'The staff team who, with governors, have high aspirations for the school, have created a happy and harmonious school community. The very caring and nurturing culture is underpinned by positive and respectful relationships.'
'There is a strong culture of care. Pupils say they are well cared for and there is always someone to help if there are any problems. Pupils talk about 'trusted adults' who they can turn to if there are any difficulties.'
'Staff enjoy good relationships with pupils. As a consequence, pupils' behaviour for learning is strong and they try hard to meet their teachers' expectations. This is demonstrated by the way pupils respond quickly to their teachers' instructions. Pupils take pride in their work, settle quickly to tasks and are reflective in planning, revising and reviewing their work.'
'Teachers use their subject knowledge to provide clear explanations to pupils. Teachers also use questioning well to check on pupils' understanding and extend their thinking. They use open questioning well to check understanding.'
'Well-understood classroom routines mean that classrooms are calm and orderly.'
'Pupils know how to be successful learners, and this is reflected in their good engagement in lessons.'
'Pupils behave well in classrooms and around the school. They move safely from room to room. They are happy to hold doors open and welcome visitors. They socialise well together, both in the dining room and outside.'
'Pupils' positive attitudes to learning and their good behaviour, along with their skills in reading, writing and mathematics, ensure that they are well prepared for the next stage of their education.'
'Across the school, pupils are making good progress in a wide range of subjects.'
'[In Early Years] Children make good progress across the setting to achieve well. Children behave well and they readily share resources and learning spaces so that their days in school are rarely interrupted. In a harmonious atmosphere, children learn and play well together. Their natural curiosity is harnessed effectively, which encourages continual learning.'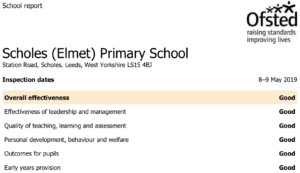 Visit Parent View if you'd like to post your views about Scholes (Elmet) Primary School, and don't forget the other ways you can express your views.
Find out more about the inspection process in Ofsted's guide for parents.