We had another exciting week in Nursery as we all continued to get to know our new friends. We're amazed by how well our new starters are settling into their new environment and remembering to do all of their little jobs!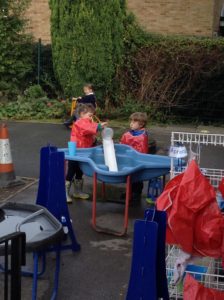 The children have really enjoyed exploring and playing outdoors; the water area and dinosaur small world have been very popular. We have also noticed the changes to the leaves and found our first conkers under the horse chestnut tree in our garden. It was great fun harvesting the carrots and radishes that the children planted earlier in the year. This gave us lots of opportunities for counting and talking about different colours and textures. Best of all, we got to eat them at snack time along with some apples and pears from our trees… totally organic!
We've been playing lots of listening games to develop both our listening and sound discrimination skills. Covering objects and encouraging your child to listen carefully to the sound is a good game you can play at home. Alternatively, putting objects in socks to create 'sound socks' is a fun way to develop listening skills.