There were lots of happy faces in Nursery on Monday morning and lots of excited tales of Halloween parties and firework related fun.
We enjoyed talking about the photographs that some parents and carers sent in from their holidays, but we'd love to see more. They're a really great starting point for conversations and help to remind children about their activities at home.  The 'Understanding the World'  part of the Early Years Foundation Stage requires children to be able to freely communicate about their home life.  Having a stimulus to look at with children, such as a leaflet for somewhere they have visited or a photograph, is a really big help when trying to begin a conversation.  Equally, something as simple as you telling us at the beginning of the day or emailing us about something you have done, is a helpful way for us to initiate conversation with your child about their experiences.
Here are a few ideas of things that you can do at home to support your child in the 'Understanding the World' and 'Communication and Language' areas of the curriculum. They're taken from a really useful document,'What to expect, when?'. It breaks down the Early Years Foundation Stage into a more user and parent/ cared friendly version.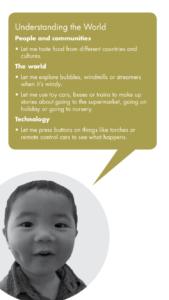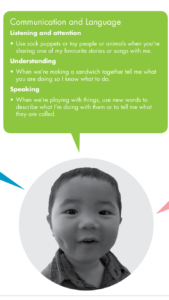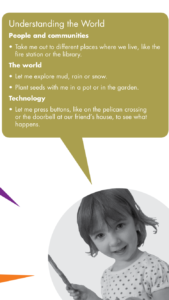 As you can imagine, conversations at the beginning of the week were largely about fireworks and Bonfire night parties.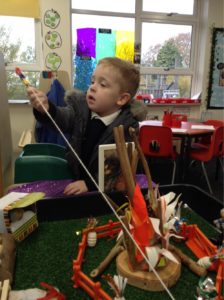 We listened to music with loud firework sounds and talked about the noises they made. We tried to re-create the sounds in our small world area with the moving rocket, whoooosh!
We enjoyed lots of creative activities this week, both inside and outside.  Children really enjoyed our large scale firework artwork; they practised some gross motor movements, splattering paint onto a large 'night sky'. As you can see from the photographs, we try our best to keep messy activities as clean as they can be!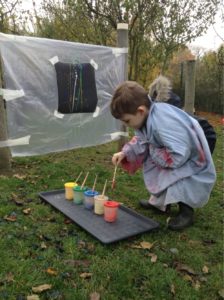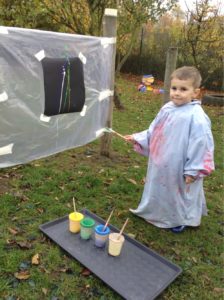 In maths, we've been investigating patterns and repeating colour patterns.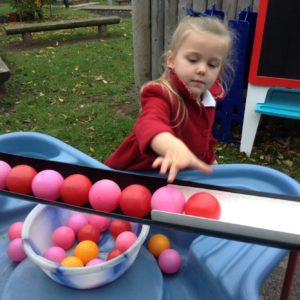 We always try to look out for children's interests to guide our planning and create relevant learning opportunities. This week, children showed an interest in the Gingerbread Man story so we're looking forward to exploring this story a little bit more next week.
Please read the Weekly Up-date for information regarding our Nursery Parent consultation  meetings and lots of exciting Christmas dates. We'll post them here soon.