This week, we've been talking about some different celebrations. Children were very excited on Tuesday when they returned to Nursery; there was a lot of talk about witches and bat costumes and tales of trick or treating in the dark. We also learnt about Diwali, the festival of lights. We watched some short video clips to find out about how some people prepare for Diwali and enjoy celebrating with family.  We learnt about rangoli patterns and loved looking at the special sweets that were part of the celebrations.
In the dough area, we made our own Diva lamps by rolling a ball and pushing our thumbs into it to make a 'thumb pot'. We added patterns with the tools and put a candle inside.  In the garden, we created some rangoli patterns on the floor using chalks.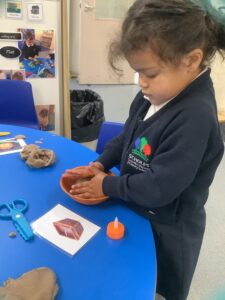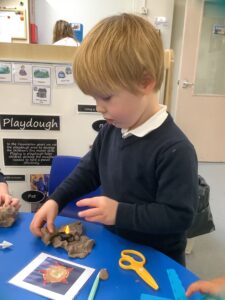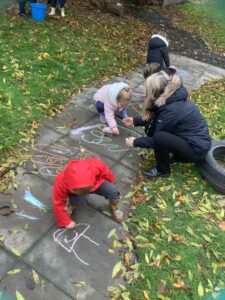 Outside, children helped to tidy the garden after the holidays; there were a LOT of leaves that needed sweeping up!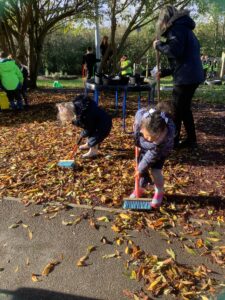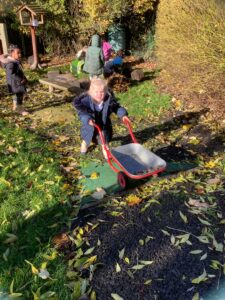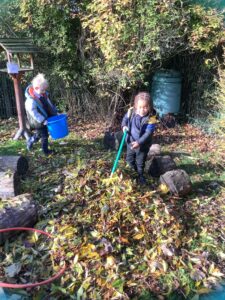 In phonics this week, we listened to sounds in our environment. We enjoyed reading 'Peace at Last' and hearing all of the noises that stopped poor Mr Bear from getting to sleep. In the Nursery garden, we heard a helicopter flying above us and the leaves rustling in the wind.  What can you hear in your house? You could also listen to the different sounds that fireworks make if you go to see any.  Do they pop, crackle, hiss, sizzle or BANG? 
Finally, towards the end of the week, we began to talk about another celebration that lots of children might take part in at the weekend – Bonfire Night. We talked about how to stay safe and next week, we'll continue our learning as we're sure you'll all hear and see lots of fireworks in the sky this weekend!
If you have joined in with any Diwali celebrations, or are going to take part in Bonfire night celebrations, please send us a photo of your child celebrating for our 'Home learning' display. Children love to share their photographs and talk about their adventures.  Email us at scholesnursery@spherefederation.org
Have a good weekend and stay safe!