As part of our themed week, Scholes In Bloom spoke to children about their work and awards they have received for making the village look so beautiful. They recently planted 3,000 crocus bulbs outside the library. They are hoping to plant more outside school. If anyone would like to donate any Spring bulbs, please leave them at the school office.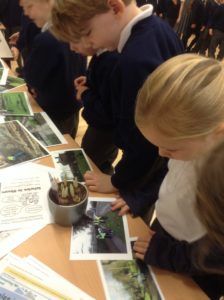 We had a visit from the Elmete Elderberries. They are a local group of older people who meet weekly to socialise and take part in various activities. Key Stage 1 enjoyed dominoes, jigsaws, card making, drawing and refreshments. We're hoping to take some children to visit the group in the near future.
Beyond Inspired also provided a gentle fitness class, replicating what happens at the Elmete Elderberries.
Key Stage 2 enjoyed the 'Zines' workshop, using magazines, newspapers and comics to create collages linked to the community and identity theme.
In Scholes, the Posada is passed around families in the community to mimic the journey of Mary and Joseph in the Christmas story. It was brought to school by the Bliss family and will continue its journey around the village throughout December.
The School Council met to decide the charity that we will support throughout the next year. Each class discussed which charity they wanted to put forward following Talk Time homework and then the School Council made a final decision in a meeting this week. They wanted both an animal and human charity. They decided that The Donkey Sanctuary fitted this perfectly as they help animals but also humans, specifically young people with a focus on self-esteem, coping mechanisms, conflict management and empathy. We look forward to raising money for this worthwhile cause.