On Friday, the children enjoyed going on a 'Welly Walk' to explore the snow and ice. They went onto the field to see what they could find.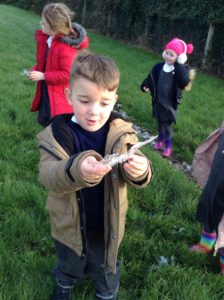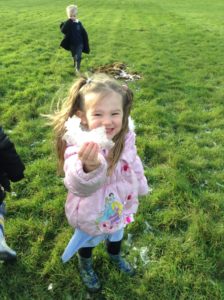 The children found big pieces of ice which they were able to pick up and observe:
"It's freezing!"
"I can see through it!"
"It's melting in my hands. It's going to water."
We collected some of the ice and brought it inside to explore further. We talked about how the ice was formed and why it started to melt when when we brought it inside.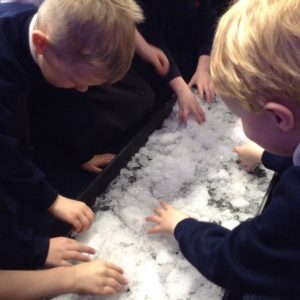 Someone had paint on their hands and touched the ice – it changed the colour of the ice! The children decided to add paint to the ice. "It's rainbow ice," they said. It made a crunching noise when we pushed down hard with the brushes. They noticed the ice melted quicker if it had been painted.  "The ice is melting if you put it in the paint."
"Squeeze it tight. It's melting…it's water," said whilst seeing what would happen if we held the ice in our hands.
We then predicted what would happen if we added salt to the ice. "It will melt," the children predicted.
We then tried to make snow balls. "It won't stick (ice)… It's too hard," they noted.